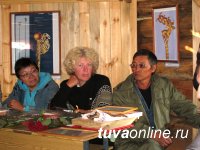 A new group of archeological finds from the Valley of Tsars filled in the collections of National Museum of Tuva, after undergoing restoration in the workshops of the Hermitage. This time, archeologists from Institute of History of Material Culture of RAN, Vladimir Semyonov and Marina Kilunovskaya have given to Tuva more than 20 objects, which were found during excavations of the Chief's burial at Koshpei, located in the vicinity of the remarkable kurgans Arzhaan-1 and Arzhaan-2.
As the museum workers reported, all of the objects were found in kurgans which held burials of a noblewoman and a child. the items include decorations of burial clothing, 18 of which are gold; the rest are of bronze, and carnelian. They include thin chains, pendants, griffons, a child's pectoral and other things, made, just like the material from both Arzhaans, in the Scythian animal style. according to the archeologists, the items date to Fifth century BC.
In the words of the expedition members, these decorations given to the museum represent just the most valuable part of the material recovered from the Koshpei kurgans. There were many more finds associated with the daily existence of these ancient people: stone work tools as well as bronze objects. These are now undergoing restoration in St.Petersburg; afterwards they will also be given into the care of the main museum of the republic.