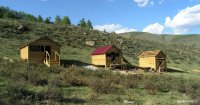 Tomorrow, a tourist base will open at the arzhaan Shivilig (Bai-Taiga kozhuun, Tuva). Maadyr Sayan, a local businessman, took care of the arrangements at the famous radon spring, which was submitted to the "Tos Ertine" (Nine Treasures) contest. New conditions will be offered to the vacationers - lodging in 4-bed cottages and Tuvan yurts. Those who like active vacations can take horse rides, there is horse-riding and sports equipment, and they can utilize tour services.
For the purpose of protecting the local ecology, the first thing to be built is canalization infrastructure.
Tours on foot and on horseback are planned through the vicinity of Bai-Taiga, there will be a horse-riding instructor, and those who wish to may play billiards and tennis. Outings will be organized for picking berries, mushrooms and wild herbs.
By the decision of the Khural of representatives of Bai-Taiga district, fees for the offered services were established.
Contact numbers for the tourist base are +7 (923) 389-17-09, +7 (923) 380-92-27.