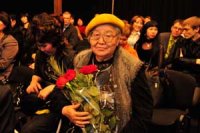 On the eve of the Day of the City, a ceremony took place at the City Hall of honoring a widely known literary critic, candidate of philosophical sciences, member of the Writers' Union of Russia, Merited Cultural worker of Russia and Tuva, Mariya Andreyevna Khadakhane. By a decision of members of Kyzyl khural, in 2010 she became the holder of the title "Honorary Citizen of Kyzyl'. An "Honorary Citizen" certificate was presented to her, and Premier Sholban Kara-ool with mayor Vladislav Khovalyg congratulated the scholar to the well-deserved award.
She was born in Irkutsk region in Bokhan village in a Buryat family. In 1945, the year of Victory, her father, agronomist specialist Andrei Izyneyev, was transferred to Tuva. Since that time, already for more than half a century, her life has been tied to Tuva.
When, through the will of fate, she found herself living among people foreign to her, she became one of the leading researchers of Tuvan literary art. She lectured in history of Russian literature of XX century to Tuvan students, researched the literary connections between the nations of Siberia, she became a translator of Tuvan folklore and literature, collected folk stories and proverbs, and brought up three generations of Tuvan writers.
Among the best known of her students are Alexander Darzhaa, Lidiya Irgit, Anton Uerzhaa, Vasiliy Khomushku, and others.
Mariya Khadakhane is also the author of monographs "Tuvan prose", "Literary Tuva", a legend "River of Life", and of hundreds of other articles of literary critique and other publications. Her opinion is interesting from the point of view of a critic regarding Tuvan literature in the context of achievements of West and East and the living vitality
She is concerned with problems of the moral outlook of the nation, the Tuvan family, youth morality, preservation of national originality, and caring attitude towards talent.
Her colleagues note: "She was brought up on the treasured values of three cultures – Buryat, Russian, and Tuvan. Her work is a magnificent joining of heroic spirit, talent for communication, and erudition!"
The first time that the title "Honorary citizen of Kyzyl" was awarded was in 1968. And it was awarded, even though only very symbolically, to a military officer, Vasiliy Georgievich Shpagin, a famous General-Major of Aviation, resident of Kiev, for active participation in the Battle of Belotsarsk during liberation of Kyzyl from the White Guard during the Civil War.
In a letter from from the first "Honorary Citizen", mailed in 1970 to the residents of the republic, he wrote: "Dear comrades! Great thanks, ulug chetyrdym, to the leadership of the republic, the city Kyzyl, to all the community organizations and to the pioneers and komsomol of Tuvinian ASSR for your warm, sensitive attention to me. Sine the time when I took part in the fighting for the liberation of Belotsarsk, now Kyzyl, has become unrecognizable. The ways of existence and culture have changed beyond recognition as well as the people – the pride of the republic. As a "Honorary citizen" of Kyzyl, I am doubly happy that the places we fought for are in good hands."