Viktor Tolstikhin took six days to get to his goal. And he gave the Bai-Taiga residents quite a surprise: he got there over the Sayans all alone, on a horse. Viktor is 38 years old, lives in Khakassia, and breeds horses. Three years ago, he started his farm in Abaza. He has been drawn to the taiga since childhood. He says that those are his father's genes at work – he was and Evenk. His mother is Russian, from the Urals. On August 23, his wife and friends saw him off and to the last moment they tried to talk him out of this trip, warning him about dangers that he could run into on the road, and told him scary tales about "wild" Tuvans who could attack him at any moment.
But Viktor did not listen to anybody. On August 29, he was met at a herding station in Ak of the Barun-Khemchik district. Next morning he went on to Teiler of Kyzyl-Dag sumon in Bai-Taiga, where he was already expected by the family of a young horse herder Syldys. That is where we met. Viktor turned out to be very cheerful and sociable.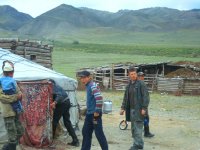 - A horse, as I know, is the main symbol of Tuva. It is not by chance that the coat-of-arms of the republic shows a rider on a horse. I love horses very much, too.
Just like Tuvans, he brought a pack horse with him for the trip across the Sayans, as well as a hunting rifle and his beloved dog named Seryi (Grey).
- How did you get the idea to go to Bai-taiga?
- After my first trip to Kara-Khol last year, I was telling everybody about Tuva all the time. When we went fishing on Alash River, I met Mikhail Sentyabrovich, the head of Bai-Taiga administration, who invited me to visit the Kyzyl-Dag sumon. So I decided to take the opportunity and to see the famous Bai-Taiga mountain, and at the same time to get some experience in taking care of horses. I have 25 horses, 15 of them are mares. But, I am ashamed to say, I do not know how to take care of them, I can't catch them with an arkan (lasso), I can't milk them, or train them. Before I started off, I warned them that I would be coming riding a horse. Mikhail Sentyabrovich took my request with enthusiasm, and also found a horse herder who could teach me.
- But you understood that it was risky to take the trip all alone?
- Of course I understood. But I really love to travel "wild". This time I decided: since I am going along a little-known trail, I will be testing my luck to the maximum. I decided to spend the nights mainly along the Abaza - Ak-Dovurak road. Just in case, I brought warm things and a lot of food. As you can see, I got here without problems and with masses of positive emotions. Nobody menaced me, people everywhere welcomed me with friendliness, and treated me to milk tea. I was astonished by the large numbers of children spending vacations in the taiga and helping their grandmothers and grandfathers with the chores at herding stations. Many girls have long braids, such natural beauty. All of them have beautiful Tuvan names.
Bai-Taiga has unusually saturated colors of nature; you could look at the steppe and admire it for hours. The steppe, mountains, and the forests are so picturesquely combined that you can feel the harmony of all the colors of the world.
When you live in a yurt, you feel the breath of history all the time. But at the same time it is a very comfortable dwelling, and you are not dependent on technology or on money. I like this herding station very much – you can see the pastures from here, and the herds, and my own horses, who are grazing together with the local ones.
Yesterday I saw the lady of the yurt milling flour on a stone mill with a wooden axis. I used the two-point hook, which is very well adapted for pulling meat out of the kettle. They butchered a ram twice. The first time it was in my honor, the second for hay making. To tell honestly, at first I was horrified to see the way the sheep are killed, but during the butchering I understood that in this way Tuvans get absolutely clean meat that looks like from the market.
In Viktor's opinion, Tuvans have not succumbed to globalization, kept their traditions, like before, they travel on horseback, the horses are most of the time not very tall and very beautiful, and, like before, they run very fast and are agile. People live in yurts, eat only milk and meat, drink from silver cups and welcome guests like relatives. The herders of Bai-taiga graze, water and milk their horses, cows, sheep and goats from morning till night. And in the evening they return to the yurt, sit around the kettle of meat, pour milk tea and turn on the TV.During his trip, the biggest impression was made on Viktor by the Tuvans' hospitality . One of his best impressions is the visit to arzhaan Bel, which helped to take off the traveler's tiredness of six days.The highest mountain pass was the Sayanskiy, which is the border between Tuva and Khakassia. On the way, he also went across the Kanzhulskiy, Angalskiy and Sotyi pass. The staff of the Bai-taiga administration showed him some of the most famous attractions of the country of white yurts and folk industries, and they took him for a visit with national artists Sergei Kochaa and Vladimir Salchak.
- Which way are you planning to go on your return trip?
- I would like to see the stone statues again which I have seen around Khondelen. They are such majestic monuments, these figures made such an impression on me that I was dreaming about them at night. But according to the first plan I decided to visit Kara-Khol once more, and do a little fishing. Last year, I and my wife liked it very much. I will go across the Suvurlug Pass behind Lake Kara-Khol. I think that if I go directly, I should be home in five days.
- Why is it, in your opinion, that so many Siberians prefer to vacation at the healing springs of Tuva instead of at the Black Sea beaches?
- I heard that many Tuvan arzhaans cure different disease, and I think that this is the main quality of the Tuvan sacred springs. I am confident that as to natural and climatic conditions they are in no way inferior to the spas of Turkey or the Mediterranean. This is probably why the numbers of vacationers here are increasing every year. The herders have told me that every year, there are more and more people interested in Tuvan culture and ways of life. New tourist bases are being built. Next year they will start to set up the arzhaan Bel, which I liked so much. Aside from that, there are other places here that are interesting to tourists, - not far from our herding station is the Buddhist drum "Mani", and there is a Buddhist datsan in Kyzyl-Dag.
- So what did you learn from our herders?
- I have been helping my hospitable hosts to mow hay, milk cows, graze sheep, and clean up dung. Now I know how to take care of horses properly: I can catch them with an arkan, I learned various other maneuvers and wisdoms. Well, and I now also can distill Tuvan milk vodka from khoiptak. I am very grateful to everybody who helped me. I think that my impressions from this trip to Bai-Taiga will change the opinion of many tourists', and especially that of the people from Abaza, that they had of Tuvans.
Viktor left Kara-Khol early in the morning on September 6. The next day he was met by Uzhar-ool, a local resident, who guided him to the pass and showed him how to get to the places the traveler already knew. On September 13, the traveler called us, already with his wife, and informed us about his successful arrival to Abaza.