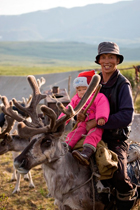 In August, 100 reindeer of the Evenk breed will go fromEvenkia to Tuva. During the visit of ministers of agriculture and animal breeding of Republic Tuva and Krasnoyarsk region to Evenkia, an agreement was reached about sending reindeer to Tuva.
According to the head of the reindeer-breeding firm "Surindinskiy", Viktor Gayulski, a herd of 100 heads will be transported to the taiga zone of the republic for the purpose of improvement of the breed of Tuvan reindeer and to increase their population.
As the minister of animal breeding of Tuva Valentin Endan announced, Evenkia will receive 20 Tuvan bulls in exchange for the reindeer.
In the framework of the co-operation between Republic Tuva and Krasnoyarsk region, the Evenks shared their experience in the matter of re-birth of reindeer herding, acquainted their guests with their projects of working out new approaches to production of traditional ways of herding and a system of measures which secure the participation of the population in small settlements.
The parties evaluated the matters of social and subsistence circumstances, and variants of nomadic lifestyle in use in the traditional areas of small-numbered root nations of the North.
Reference gov.tuva.ru
Republic Tuva is the southernmost area of extension of the northern reindeer. The northern reindeer of Tuva are represented by the Evenk breed. However, the Tuvan population is significantly larger than their northern relatives. While the slaughter mass yield of Karelian reindeer is 36-40 kg of meat, the Tuvan reindeer yield is 60-75 kg.
Reindeer herding has been since ancient times a branch of pastoralism which determines the subsistence and way of life of the indigenous people of the northeast districts of Tuva, particularly Tuvans-Todzhans.
However, the socio-economic reconstructions of the last years had a severe impact on this traditional branch of pastoralism. While in early 1986 there were more than 10,000 head of reindeer in the republic, 85% of which was concentrated in Todzha kozhuun, in January 2009 there were only 1788 head of reindeer in Tuva. The largest proportion of Tuvan reindeer traditionally lives in Todzha. Currently, 1255 reindeer lives there, out of which 953 are the property of MUP "Odugen", which represents the genetic bank for breeding and preservation of the population of northern reindeer in Tuva. Another 305 head are counted in private ownership of small family groups.
The problems of preservation and increase of the population of rare types of useful domestic animals of Tuva, one of which is the northern reindeer, are always uppermost on the list of the government of the republic. Last year, the government apportioned 1200 rubles per head out of the republic budget for the subsidy of reindeer herding.