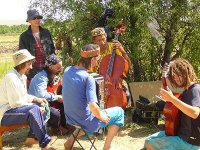 On 13 July, the 13th International Festival of Live Music and Faith "Ustuu-Khuree" will open in Tuva. Among the headliners of one of the most famous music venues of Siberia are Sainkho and Garlo (France), GenDos and Svatava Drichkova (Czech Republic), Albert Kuvezin (Tuva), Sofia (Kara-ool-Dulush and Wind Instrument Orchestra of the Government of Republic Tyva, and group "Khartyga". On the opening day, there will be horse races, dedicated to 90th anniversary of the republic and an evening concert at Chadan stadium. The concert program will be started off by Sainkho and Garlo(?).
14 July
10:00 - Parade along Lenin's Street. 90 horse-riders, 90 beauties and 90 wrestlers of Chadan
will take part in the parade.
After the parade, there will be a ceremonial gathering, dedicated to the 90th anniversary of Republic Tyva. Place - House of Culture.
13:00 - Khuresh wrestling competition at the stadium
18:00 - Marathon-concert on the main stage of the stadium
15 July
10:00 - Departure to Ustuu-Khuree Temple complex
18:00 - Marathon-concert on the main stage of the stadium
16 July
10:00 - Departure to "Kegeen-Bulak" spring.
18:00 - Gala-concert-marathon and closing of the festival on the main stage.
17 July
10:00 - Departure.
It is known that the date of the traditional campfire of Friendship will be determined by Kara-ool Dopchun-ool of the "Adyg Eeren" (Bear Spirit) shamanic association.
Only the strongest musicians, selected by jury during previews on the contest square in the tent town will be working on the main stage. The composition of the jury will be announced on the day of arrival.
Bikers from various regions of Russia will be coming to the festival on 15 July. This is organized by Kyzyl's biker club, "Kochevniki Azii" (Nomads of Asia).