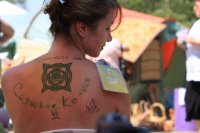 The 8th International Festival of Ethnic Music "Sayan Ring" that took place on 8 - 10 July in Shushenskoye had about 31 thousand visitors, as the regional ministry of culture announced.
34 groups and solo performers from various regions of Russia took part. The audiences had an opportunity to appreciate the art of laureates of the ethnic music festival 'Sayan Ring" of 2003-2005, and by recipients of the "Zolotaya Iriya" 2007-2010 ethnic music award of Siberia. Internationally famous performers and ensembles performed in the capacity of honored guests of the festival, among them Nina Nastasia (USA), Sainkho Namtchylak (Austria-France), group "Las Balkanieras" (Serbia, Croatia, Russia, Germany), group "Gaidamaki" (Ukraine), group "Afrikanda" (Chad, Senegal, Congo, Madagascar, Ghana, Cote-d'Ivoires, Cameroon, Guinea, Russia, Ukraine), Sergei Starostin and group "Etnosfera" (Russia), group "Huun-Huur-Tu (Republic Tyva), and many others. Folk music ensembles representing traditional cultures of minorities of native people of north of Krasnoyarsk Krai, also as honored guests, performed with success - among them ensembles "Togokon" (Evenk municipal district), and "Kharp" and "Sinyuko" (Taimyr Dolgan-Nenets municipal districts).
Following the tradition, workshops on various themes were held, from folk music to traditional crafts, lessons in folk health practices, and reconstructions of traditional rituals of Siberian people, performances by traditional folk theatres,, showings of documentary films, and public lectures.
"Etnodzhem" (Ethno-jam) is a new project - an experimental musical event with participation of guests and festival participants, where the musical traditions of various peoples with unique sounds of ancient national instruments interacted with various musical styles. For the first time, the "Sayan Ring" audience could approach ethnic folklore productions in the "Yurt of story-tellers", where performers from Khakassia, Tuva and Altai revealed new facets of oral folk art. Krasnoyarsk Cultural-Historical museum complex project "Art in Nature", representing art of creative youth of Siberia was also introduced for the first time.
About 250 people from Russia (first of all from Krasnoyarsk Krai and republic Khakassia), Mongolia, India, Cameroon participated in the "Town of the Masters". There was a new feature "Fair of eco-products", introducing natural products and hand-made artifacts for health and beauty.
2011 was the first year that the project was non-alcoholic. The order was secured daily by 215 police staff, as well as members of Abakan and Minusinsk Cossacks. Special attention was paid to road traffic safety. As a result of these measures, there were no instances of disruption of public order during the festival.