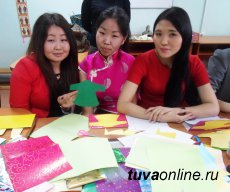 In Tuva, tomorrow, on 6 February at 16:00 at the Headquarters of youth organizations at USK "Subedei", there will be conducted an ethno-training event. It was initiated by Youth administration of the republic. As Syrga Suvakput, the organizer, told "Tuva-Online", the idea was born a long time ago.
"We wanted to teach young people about our traditional rituals, their history and philosophical content. Unfortunately, lectures and excursions are traditional and young people do not always come to them. But such a creative event as this should attract young people, we thought about it and decided to hold ethno-training just before Shagaa."
Candidate of psychology Tatiana Ondar will be the trainer at the event. She assigned the organizers the task of preparing the materials. It is expected that the participants of the first ethno-training will be representatives of community youth organizations. Information has been placed on social web-sites and has attracted great interest in Tuva and in Tuvan student organizations in other regions. "We will put videos with the results on the sites," - says Syrga.
This is what the official ethno-training program looks like:
Exhibition of objects of daily life of Tuvans;
Ritual "Cholukshuur" and prohibitions on Shagaa (with the aim of prophylaxis of alcoholism among the young);
Art-therapy (making of hand-made Shagaa greeting cards);
Feedback (phyto-tea);
Dress-code: national costumes or parts of them - jacket, vest, chavaga for girls;
Organizers: Youth administration of RT
Place and time of event: 6 February at 16:00 at USK "Subedei", 85 Headquarters of youth organizations.