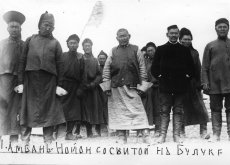 Today, a scientific-practical conference on the subject: "About the role of Ambyn-Noyons in the founding of Tuvan statehood and unification of Russia and Tuva" took place in Samagaltai, by the initiative of administration of Tes-Khem district. Scholars from Tuvan Institute of Humanitarian research, students from Tuvan State University, staff of Ministry of Education of Republic Tyva and students from Tes- Khem district schools took part. Chairman of the committee of Supreme Khural of Republic Tyva in agrarian politics and utilization of natural resources, Ivan Chuchev welcomed the participants of the conference in the name of the delegates.
"The role of the institute of Ambyn-Noyons in the history of founding and development of Tuva as a state is immense, - emphasized the member of the Parliament. - Ratified by the Manchu rulers of China in 1763, the supreme office of Ambyn-Noyon united the scattered kozhuuns of Tyva. This gives us the reason to say that it was precisely this period that Tuvans first felt themselves to be a single nation on in their territory held in common, their language, religion and culture. That is when the foundation of the future Tuvan statehood was laid down.
In 2013, the institute of Ambyn-Noyons celebrates its 250th anniversary. The encampment of the Ambyn-Noyon was located in Samagaltai - in the first capital of Tuva. This year Samagaltai celebrates 240 years since its founding as well.
Tuva is on the threshold of observing its 100th anniversary of unification with Russia. Tuva's past shows that especially the activity of the last Ambyn-Noyons was indelibly tied with Russia. Namely the Ambyn-Noyon of Tuva, Kombu-Dorzhu, as the supreme ruler of the entire Tuva, was the first of Tuvan Noyons that in 1912 addressed the White Tsar in a letter requesting him to take Tuva under his protection.
After declaration of protectorate over Tuva, Russian Emperor Nikolai II held all the official communications only through the Ambyn-Noyon, recognizing him in this way as the highest official personage of Tuva.
Further political development of Tuva shows, that even at the moment of formation of Tuvan people's Republic in 1921, the office of the Ambyn-Noyon was recognized as an organ respected among the people. The assignment of Ambyn-Noyon Sotnam-Balchyr as the first Chairman of the Government of the new state serves as an example. To his death he was a member of the supreme executive organ of Tuvan People's Republic.
The deputy wished the conference a productive meeting.