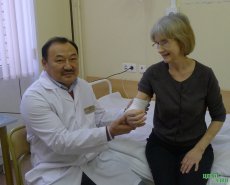 Vyacheslav Ondar. Titanium prosthesis.

Titanium is a light silvery white metal - an extremely important material in construction of rockets, airplanes, or ships, it is used in submarines, reactors, pipelines and cell phones. It is present in sports goods and in jewelry items.

Precisely titanium, for the first time in the world practice, was used to cast a monument in Moscow, dedicated to the first cosmonaut on Earth, Yuri Gagarin.

But from titanium are also made artificial joints, which, instead of the painful, worn ones, Vyacheslav Ondar gives to his patients.

In December 1990, the physician-traumatologist followed his student son to Moscow from Kyzyl, to study and work, work and study. To change one's customary way of life suddenly at a ripe age is a decisive step, for which a special kind of courage is necessary. And it turned out to be the right step.

Thanks to it, the provincial doctor, who was always striving to learn everything new in orthopedics, rose to the international level in medicine.

Today, Vyacheslav Ondar is a Doctor of Medicine, member of American Academy of orthopedic Surgeons (AAOS), and of International Association of traumatic orthopedics (SICOT) and on to of that - National Physician of Republic Tyva.

We met with him in Moscow, at Clinical Hospital No. 85 of the Federal medical-biological agency of Russia, where Professor Ondar is the head of Department of Trauma and Orthopedics.

The hospital consists of a whole complex of structures, and at first one can easily get lost in its long corridors Ondar's department is on the second floor. Snow-white corridor, spacious sparkling-clean rooms. A female patient with a complicated arm fracture smiles joyfully at the doctor: "I rely only on you, Vyacheslav Suder-oolovich!"

When she found out that a large article is in reparation about the doctor for "Center of Asia", she introduced herself: "Irina Nikolayevna Yevdokimova, I am from Dubna, a science town, I service the engineering system of the accelerator. And she asked: "Definitely put in my opinion: our doctor is a magician."

Yet another patient, handling his crutches with agility in the corridor after joint replacement surgery, bursts into a smile when Ondar tells him when he will be discharged, and shakes his doctor's hand: "Thank you for everything!"

Today is a holiday, there is nothing on the surgery schedule, and we can calmly return to the comfortable office of the chief, with its walls covered with multiple Russian and international certificates.

THE DREAM OF A WHITE COAT

- Vyacheslav Suder-oolovich, your patient from Dubna called you a magician. In my opinion, she is quite right: to cut living flesh, taking the responsibility for the lives of the people, some exceptional qualities are necessary. Are surgeons really some kind of special people?

- I would not say so. Surgeons are ordinary people. And I am no magician. It is simply a profession. Only one needs special preparation for the work. One has to begin the preparation even before going to college.

- How did you prepare?

- In the family. Everything began with Toyunmaa Stepanovna Kuzhuget. She is doubly my relative: as a first cousin of my older brother's wife, she married my uncle, my mother's only brother.

Toyunmaa Stepanovna, who became a Merited Physician of Tuvinian ASSR, is the first physician in our family. After she finished Tomsk Medical Institute, she lived with us for some time - in the village Tselinnoye, where she was assigned. I was in elementary school at the time, and was totally bewitched by the white coat that this beautiful woman wore. From that moment, it was my dream to be just like her - a person in a white coat.

Then my own sister Lyubov Suder-oolovna went ot Krasnoyarsk medical institute. Anytime she came home for summer vacation, talk was only about medicine: about anatomy, professors, difficulties of study. I listened t her with open mouth. When my sister was graduating, I was just finishing tenth grade, and made my final decision: to go to Krasnoyarsk medical institute just like her.

- Was your family large?

- Large and friendly, we are still like that. There were five children: oldest brother Sergei, he is already seventy, the three sisters, Olga, Lyubov and Maiya, and I was the youngest. I was born on 18 October 1958 in Tselinnoye of the Kyzyl; district.

Papa and mama - Suder-ool Chambalovich and Khuvar Serenovna Ondar moved there from Sut-Khol in the second half of the '40's of the last century, soon after Tuva joined the system of Russia. They used to tell that they found large fields here with good grass for herding livestock.

Mother's father, Seren Arapayevich Kuzhuget, was a commander in Tuvinian people's revolutionary army, the first mayor of Kyzyl, and in 1938 he was falsely accused of contra-revolutionary activity and sentenced to death by shooting, which was changed to eight years of prison. Later on he was rehabilitated. Commissar - that is how they addressed him with respect in Tselinnoye, where he lived and worked till the end of is days. After grandpa's death, one of the village streets was named after him.

Our village Tselinnoye was the center of sovkhoz "Pobeda". And what a sovkhoz it was - a millionaire! It is a pity that nothing is left of it now. The names of the grain workers of "Pobeda" sounded loud throughout the entire republic: Dorzhu Saayayevich Dandar, Ochur-Sat Surunmayevich Saryglar, Kaldar-ool Kyrgan-oolovich Oorzhak. We even had out own Hero of Socialist Labor - technician Vasiliy Oyunovich Yanchat, he still lives in Tselinnoye. I was very little at the time, but I remember how Salchak Kalbakkhorekovich Toka presented him the gold star of the hero, and at the same time the lights at the club went out. We school-children also worked, as volunteer labor: in the fields, or grain threshing.

Village Tselinnoye was famous for its athletes. Our free wrestling coach Fedor Khaazhykpanovich Ondar, who trained me, was the second person in Tuvinian ASSR to get the title of Master of Sports of USSR. And famous wrestlers came from our village: brothers Yuri and Alexander Mongush, brothers Anatoly and Vladimir Tyulyush, Martyi-ool Pilchin, Alexander Oyun, Igor Byshtak-ool.

Father worked all his life in the sovkhoz as a builder-carpenter. People used to say about him: hands of gold. Mother worked as a cook, and later as a foreman of sheep-herding brigades, I loved to go to the herding stations with her, and later as a chairwoman of the village council. Mother was very hospitable, and all my friends used to gather at my home; she could set the table for ten little boys and welcome all of them with respect, like adults.

I don't remember ever hearing my parents quarreling, but when I was in sixth grade they divorced. Mother went to Ergi-Barlyk village in Barun-Khemchik district. I often went to visit her. But I remained living with Papa, I could not leave him alone by himself. I lived with him until I finished school. The older children were some in college, others in other villages, and they came visiting.

My patents have died a long time ago. Papa, born in 1923, died at the age of 60 from esophageal cancer - late diagnosis. Mama, born in 1925, died at 73 - after a second stroke. I miss them very much.

BOY WITH A TUBE IN HIS THROAT

- Was it difficult for a boy from a village school to get to a prestige medical school?

- It was more funny than hard. Even though at the time I did not feel like laughing.

I had straight A's from first to tenth grade. But they did not give me a gold medal in our village school in Tselinnoye, they explained that they were late: they sent in the application too late, it was supposed to be done at the start of the school year , not after the final exams.

So that in 1976 I continued with general education: in Kyzyl, in general schools for Tuvan graduates. Krasnoyarsk medical institute had ten applicants for each spot.

I got five points for the final exams. Oral exams - biology, chemistry, physics - excellent. But for composition - a D! I looked at the grades and could not believe my eyes. I let an older kid sitting next to me copy my composition, who went to the physical education department of Krasnoyarsk pedagogic institute, later we became good friends. And he got an A, but I got a D! how could that happen? Now I understand it, I was in somebody's way.

We took the finals at the Tuvinian pedagogic institute. I was crying, I won't hide it, I could not keep the tears back, my dream was collapsing, I went to speak to the rector. The rector at the time was Candidate of pedagogy Khomushku Sainotovich Aldyn-ool. I was crying: "I should not get a D, I had A's for the whole ten years!" he called up someone from the commission and took up my case: not a single mistake, simply sentences underlined with a wavy line.

Khomushku Sainotovich: "I see it all, I understand it, but they have no spots in medicine." And suggested an alternative: veterinary medicine and agriculture in Moscow. There was nothing else to do: I was in school from the age of eight, was going to be eighteen in the fall, and would have to go into the army. So I agreed to go to Timiryazev academy, plant protection department. I was there for a year, but de facto I lost it.

But the next year I went to Krasnoyarsk in person, and I got what I wanted: I was accepted at the Krasnoyarsk state medical institute, now it is the academy.

I got involved in science from the third year . I signed up for a student scientific association. Without thinking too much, I chose surgery right away. I carried out experiments with rats. We would specially infect them with staphylococcus, get a purulent wound, and then treat it with laser LG-75. Laser was fashionable at the time. My preceptor Mladentsev defended a candidate dissertation on that subject.

And the title of my student scientific paper was "Therapy of purulent wounds with helium-neon laser."

The regional clinical hospital No. 1 was located right next to our school, and it had a very strong purulent surgical department. In fifth and sixth year I worked there as a nurse in intensive care where they had patents with intestinal fistulas. I loved general surgery. At that time I could not even imagine that my life's work will be traumatology.

- What was your first independent surgical procedure?

- My first procedure was a case of acute appendicitis at Krasnoyarsk hospital. I was in sixth year, and the procedure can't be considered totally independent: I did that under the control and tutoring of an experienced doctor.

But the first totally independent procedure was already in Tuva. In 1984 I graduated fro the institute and went back to my native country. The internship began on 1 August, and they sent me for a month to Chadan - to the district hospital.

The head of the surgery department at that time was Valeriy Sambuldayevich Khovalyg, a man I respected very much, and he trusted me to be on duty by myself. And right at the start - a very complicated and responsible case came in. in the middle of August, when I was on duty, a mother came running with her child, they lived net to the hospital. The boy was three or four years old, he was all blue, was not breathing. The mother was holding him with his head down. It turned out that he swallowed a five-kopeck coin.

It was an emergency, so right there in the treatment room, I did a tracheotomy: I put in a special tracheostomy tube so that the child could breathe, because he could not breathe either though his nose or mouth. The boy came back to life right away.

I called the ambulance helicopter right away, there were no problems with this at that time, medical airlifts worked accurately and fast. They took the baby to Kyzyl, and then, with my tube in his trachea, to Krasnoyarsk. And there they got the coin out.

The little boy also became a physician - stomatologist - now he works at the district clinic in Kaa-Khem of Kyzyl district: Artas Viktorovich Oorzhak.

A GREAT TEAM

- How did you choose your direction in medicine - traumatology?

- It was not me who chose it, I was assigned. At the time the chief surgeon of the republic was Lidia Mikhailovna Kozlova. After Chadan, she sent me right away to Tec-Khem district. I worked there for another month. But from November I was in Kyzyl in the republic hospital.

There were no openings in general surgery, but the head of traumatology department, Viktor Alexandrovich Vereshchagin, offered me: "Do you want to be a traumatologist? I have an opening in my department." Without thinking, I took it. And I never regretted it.

At that time the department had a great team: Viktor Alexandrovich Vereshchagin, Vyacheslav Ivanovich Naumov, Leonid Zyamovich Osmolovskiy, Sergei Leonidovich Kostyukov, Valery Petrovich Nasyuryun. My mentors. The foundation of the traumatology of the republic!

I don't even know how long it would take to prepare people to put together such a team of professionals again today. At the same time, they worked mostly on bare enthusiasm, on accumulated experience. There was no equipment to move forward. The implants, which used to be given to patients with fractures can't be compared with those today. We were flying to the cosmos, but such necessary things which are indispensable for people, could not be made in the USSR.

- Vyacheslav Suder-oolovich, and how did you get to Moscow from Kyzyl?

- It is the fault of my son Aidys. In the summer of 1998 he was accepted to Russian University of Friendship among Nations, medical department. And he was in Moscow from the end of August.

And in Kyzyl the situation was crazy: my wife Tatiana was a doctor, I was a doctor, we weren't getting any pay for six months at a time just like all other state employees.

I was looking for any alternative to send something - anything - to my son the student in Moscow: packages with grains, with candies. To make some money, I was involved with sausages; I would drive my friends-entrepreneurs to Krasnoyarsk or Abakan, where they bought sausages and then sold them in Kyzyl as hot-dogs.

Only you can't get far on sausages. Cry as you might, there was nothing to do to help my son. And one day I was sitting around with friends, and Vyacheslav Yanchai-ool said: "And why should not you, Slava, go to Moscow yourself? You can do so many things, you will find work right away there."

I walked around all day, thinking. Really, why not go? But if I was to go to the capital, it would not be just to make money, but to continue my education as well - to do an aspiranture. But to be accepted for post-graduate education is not so easy especially when they already stopped admissions for the term.

What to do? I called up professor Valery Grigorievich Golubev, the head of the traumatology department and orthopedics at Russian medical academy of post-graduate education.

And that was him - my mentor. And now we are friends. Before 1998 I took five specialty courses with Valery Grigorievich in Moscow in new methods in traumatology. During lessons he told me about an old Japanese method: in hip joint disease, they would graft a branch of one artery to the side of the diseased bone. As a result, blood supply increased and there was less pain, and the bone structure healed .

The Japanese used this method with adults, but I applied it for children with Perthes disease. The results were very good. In 1997 I got a patent for invention No. 94004020, and the title of the work is "Method of recovery of support function of lower extremities in Perthes disease."

Professor Golubyev came to Kyzyl twice, and we operated together. The second patent for invention No. 2161963 we received already together in 2001: "Method of treatment of tibio-fibular ankle fractures with subluxation of foot."

So when I thought about post-graduate education, Valery Grigorievich suggested an approach: "Admissions are finished but if your government asks out academy, we could help."

So I went to the government. At that time the representative of the president in Russia was Kalinduu Chadambayevich Mongush, by profession he was a physician-stomatologist, a colleague.

I come to Chadambayevich: "Help me." He called somebody right away, they sent a telegram to the name of the rector of the academy of post-graduate education. Literally the next day, I had a call from the Ministry of health,: there is a spot for you personally for aspiranture. On 21 December 198 I flew to Moscow, next day I took exams: philosophy, German language, other subjects. And that was all - I was accepted.

MY ORDINARY WORK

- Did you find work in Moscow as a provincial doctor?
--- I looked for a job for three months, there were no openings even in emergency rooms. Finally I got a job as a duty traumatologist at the first city hospital. My ordinary work, nothing new.

A year later Valery Grigorievich Golubev calls me and asks: "How are you doing with material fro the candidate dissertation?" "All right, I collected a lot of material during this year." " And wouldn't you like to collect some more in Moscow region, in the city of Krasnogorsk?"

Why not? So I went to Krasnogorsk. The chief doctor of the hospital Doctor of Medicine Gennadiy Mikhailovich Kavalerskiy - took me first for part-time, gave me a duty appointment and a separate room where I could admit my own patients to treat on the subject of the dissertation. Six months later he appointed me as the head of the department. In parallel, I became the chief traumatologist of Krasnogorsk district of Moscow region. I worked there for three years - from 2000 to 2003.

And then another call: the clinic of the Federal Center for expertise and rehabilitation of invalids, they needed someone who did joint replacements. So I started to work there from January 2004.

At the same time, very often, once a week exactly, I used to go to clinical hospital No. 85. Alexander Alexeyevich Kutin, Doctor of Medicine, deputy chief in science, he was a specialist in feet and called me for consultations in complicated cases. And on one wonderful day he called: "Come here Vyacheslav Suder-oolovich, our chief wants to talk to you."

So I went there. The chief doctor Oleg Sergeyevich Tseka, he is a professor, Merited physician of Russia, took me to the second floor, and shows me a deserted, abandoned or fifteen years mud therapy room with a scratched-up pool without water. And he says: "I offer you to be the head of this department."

Dust everywhere, dilapidation what is there to be the head of? And the chief firmly announced: " be certain - everything will be ready very soon, and with the highest standards, all you have to do is work, we are opening a trauma department just for you.

Together with Oleg Sergeyevich we went to Germany: we studied the equipment in corresponding clinics, and the principles of their work, to utilize the best experience at home.

So that is how from September 2007 I started to work at the clinical hospital No. 85 of the Federal medical-biological agency of Russia. The agency, led by Merited physician of Russian Federation, Doctor of Medicine, professor Vladimir Viktorovich Uiba, is a very large, important structure with many branches. Our hospital is only one of its many subordinate agencies.

At first we treated trauma patients in the surgery department, but the traumatology-orthopedic department was really set up very fast - in a year and a half. Two hundred million rubles were allocated for its opening from the federal program "Health": providing medical help to patients who suffered injuries in transpirations and vehicular accidents. Today we continue to work in this program that is provided free to the patients, with federal financing: certain segments of the roads are a part of it. In our hospital and in hospitals No. 7 and 79 - we get patients from Kashirskoye highway: the part from 0 km to the Moscow circle automobile road.

- And do you get many people injured on Kashirskoye highway?

- I am glad to say that we do not get many. The road is good, wide, with railing, and nobody can get in the wrong way.

But sometimes there are complicated cases. For example, last year we admitted a 27-year-old female motorcyclist: she had a very complex fracture of both bones of the right shin. On top of that, as she fell of the motorcycle, she scraped her leg on the asphalt. Her skin died off - circumferential necrosis.

We put on Ilizarov's apparatus right away, took off the dead skin and transplanted a skin graft from the patient's behind on her shin. Everything worked out: the fracture healed, and the leg was OK.

IN FEDERAL PROGRAMS

- Whom does your hospital mostly serve?

--Manly, hospital No. 85 works for Rosatom. It includes the space program as well. We serve all the employees and retirees from nuclear, and space industries, and from related research institutions, and their closest relatives - wives, husbands, children, parents.

Al the others who wants to be treated in our hospital have to go through the department of paid contractual services. And our rates are below average compared to Moscow.

But the traumatology-orthopedics department is the only one at the hospital that works with three federal programs at the same time. Beside those injured in traffic accidents, we also provide free treatment to athletes - members of athletic teams of Russia - they come with sequelae of old injuries.

But the main program- providing high-technology medical treatment: endoprosthetic replacement of joints. About 80% of the work at the department involves precisely orthopedics: replacement of large joints. And the equipment of the department is purchased mainly within this federal program.

Each program has separate financing. Plus the paying patients. So in this way we have higher salaries than physicians and nurses in other Russian hospitals. But the responsibility is of the highest, too.

The department is calculated for 25 beds. The rooms are for two or three patients, there is a video-camera in each room, and alarm buttons. If necessary, the patient can press the button, and the call immediately gets to the nurses' station switchboard to the nurse on duty.

We have three OR's with the most up-to-date equipment. There is no lack of anything, it is powerful I have a basis for comparison: I go to hospitals abroad often, and I can see that our department is not behind in any respect.

For that reason the demands for qualification of personnel are very high. Traumatology is such a specialty of medicine where you have to keep in step with the times: with the science, with the newest equipment and constructions.

Without it you are nowhere. With obsolete knowledge and a scalpel, needle and sutures alone there is nothing you can do in trauma.

- Vyacheslav Suder-oolovich, in your office of the chief of the traumatology-orthopedics department, there is a collection of objects on the shelves that has no immediate relation to medicine. Are they tokens of appreciation from your patients?

- Yes, that is what the patients bring after they get well. And if people give something from the heart, one can't refuse. So this way a small exhibition grew.

- Interesting presents - pictures, souvenirs with a meaning. In the past, patients used to have less imagination: everybody tried to bring a bottle of cognac, thinking that it was the best gift for the surgeon. Do you remember who these are from?

- These Orthodox icons were given to me by a priest. The souvenir gold coin in a box is from a patient from the main administration of special programs of the President of Russian Federation, the knight is from a professor from National Research nuclear university "MIFI". But that Napoleon's bust - I don't remember.

I operated the National artist of USSR Vyacheslav Mikhailovich Gordeyev, another bunch of ballet dancers with old injuries. Afterwards they often invite me from gratitude to the Bolshoi Theatre shows.

It is a pity that lately I have not been able to accept the invitations; we used to go often with my wife to the theatre, but now there just is a catastrophic lack of time for it. The work load is colossal, and even the youngest grandson lacks for attention, waits for his grandpa impatiently on the evenings.

Sometimes there are unusual signs of respect. Recently a discharged patient called me and said: "I went to church and ordered a service for you, the priest will read prayers for your health for a month." I was very touched: the lady in her way took care of the doctor's health.

- And what about this weird metal construction, is it also a gift?

- No this horrible prosthesis is something I dragged out of a patient's hip and kept it as a museum specimen. This is what happened: the patient was from Voronezh and they implanted this stainless steel prosthesis of Soviet manufacture from the '60's, they found this obsolete construction somewhere and used it in our times. And far from free, too.

After two years the tormented man came to us, I took this prosthesis out and gave him a contemporary one, imported. We work only with imports, we do not use domestic ones.

- In what countries do you purchase the prostheses?

- We are working with four firms in the USA, Switzerland, Germany and England now. If a production company offers us their products, my obligatory condition is to see everything with my own eyes: how and in what conditions are the prostheses made. I insist on evaluating their quality, so that I would not have to be embarrassed in front of the patients.

It is a principled approach - to feel everything with my own hands. Only after I am completely satisfied we will contract with the firm. There are many firms that want to work with us, so I go abroad often. Definitely at least once a year.

HELLISH WORK

- What is the geography of your business trips abroad?

- I have been practically all over Europe: England, Belgium, Hungary, Germany, Spain, Italy, Czech Republic, Switzerland. I have been several times to some of the countries, to exchange experiences, to train at some of the leading clinics.

- Did they ever offer to stay to work abroad?

- Yes, in Switzerland. I was in Zurich in 2003 for a week-long seminar. There I met professor Peter E. Ochsner, a very prominent person in orthopedics, one of the four most important ones. And in 2005, we corresponded, and during my vacation I went to him for training - orthopedic clinic of Liestal, where the professor is the chief.

I took a translator with me and the whole month, from seven in the morning to seven at night, except for weekends, I never left the clinic. I learned from my Swiss colleagues and assisted in surgery.

It was then that Professor Ochsner proposed that I come to Switzerland to work with him.

- Were you interested in the Swiss big shot's proposal?

- Yes, I was interested, but one had to know the language perfectly: either German or English. I tried to learn, but it did not work, I just don't have a talent for languages.

And when I began to work at the Moscow clinical hospital No. 85, all thoughts about working abroad disappeared. Possibilities to realize my professional dream showed up in Russia, too - to work on a high level of world standard, using high quality artificial joints.

- What materials are used to make contemporary artificial joints?

- The main metal used in them is titanium. There are prostheses of knee and hip joints made of pure titanium and its alloys with cobalt, chrome or molybdenum. Ceramics are used as well. To make the implants resistant to infection, silver dusting is used. Lately some very good coatings showed up with hydroxide of apatite - to join successfully with bone tissue - osteo-integration and prevention of osteoporosis. There are various prostheses, but the emphasis is on titanium.

An artificial joint is a whole organism in itself. And for every patient it is picked individually. Everything is taken into account: age, way of life - is this patient involved or sports or not, does he have an active or sedentary work. Much depends also on the patient's weight and how advanced his osteoarthritis is.

The doctor has to study the patient with attention in detail, x-rays, CT scans, status of the vascular system, and analyze everything and only then come to a conclusion about concretely which prosthesis to use.

- On your shelf, among the souvenirs from patients there is something elegant, and it looks like a prosthesis. Am I right, is it really one?

- Yes, it is a real prosthesis of a knee joint. The base is titanium, coated with gold-plated titanium, and metal-polyethylene. My Hamburg colleagues had it made for me as a souvenir, with an inscription on the base "Dr. Ondar Viacheslav". It was their present in honor of when I defended my doctoral dissertation.

- Does your doctoral dissertation have practical application?

- Of course. Its title is "Complex research of disability as consequence of diseases of locomotor system in Russian Federation, and scientific foundation for contemporary approaches to medical-social rehabilitation." My scientific supervisor was Doctor of medicine, Professor Lidia Grishina.

It s the first work in Russia on endoprosthetic implants for invalids, the result of decades of observation of post-surgery patients. An analysis of disability groups and the change undergone after surgery. It has great importance for practical medicine. It was a tremendous volume of work: analysis of nine hundred of patients that I operated on.

And I will admit honestly: a dissertation is a hellish lot of work. And not just the process of collecting and analysis of the material, but a complex system of evaluation and proving of the finished work, and beside that - in the major scientific journals there should be at least fifteen large articles on the subject. But I saw it through anyway, and on 29 September 2012 in Moscow, in the Federal Bureau of medical-social expertise, a successful defense of the dissertation took place.

FOUR DOCTORS IN ONE FAMILY

- Do all the members of your family live in Moscow now?

- Yes, the years and separations, when we all had to live separately - myself and my oldest son Aidys in Moscow, and my wife with younger Artysh in Kyzyl, are long behind us. Today we are all together, and we are all in medicine. My wife Tatiana Vasilyevna works as a UZI physician at polyclinic No. 128.

It was very interesting how we met, you could say - in flight. It was 35 years ago. At the end of August 1977 I was standing, happy, at Kyzyl airport, preparing to fly to study at Krasnoyarsk State medical institute - the first year.

An old man with a little suitcase comes up to me, and it was Alexander Kuderekovich Darzhai, and he asks: "Where are you going?" "To Krasnoyarsk, to study at the medical institute." "Oh, my niece Tanya Sodunam is also going to Krasnoyarsk, also to the medical school. Help her, please to carry her suitcase." "All right, I will carry it for her."

So this is how we met at the airport, came to Krasnoyarsk together started to study together, and after the fourth year we got married. When our first boy little Aidys was born, we took academic leave together.

For a year we sat with our baby son, at first I worked in Kyzyl as a loader at a furniture store, later I worked as a nurse at the neurosurgery department of the republican hospital. After that year, we went back to school. My mother helped us very much at that time: she took care of the baby.

Today Aidys works at the clinic of Federal bureau of medical-social expertise, at thirty he is already the chief of orthopedics department with joint replacement. He trained in Germany, Czech Republic, Hungary, Latvia, Austria.

His specialty is corrective surgery of the foot, hand surgery, replacement of large joints, and knee arthroscopy. Aidys is a member of international association of orthopedic and trauma surgeons SICOT and of European Association of foot and ankle joint surgery EFAS.

And the younger son - Artysh - is an orthopedist-traumatologist at clinical hospital N. 85, he works in my department with me. He is a specialist in arthroscopy, member of European Association of Sports traumatology, surgery of knee joint and arthroscopy (ESSKA), and of International association of orthopedic surgery and traumatology (SICOT).

- I noticed that the feedback from your grateful patients on the hospital's web site, your and your sons names are always together: "Thank you, Vyacheslav Suder-oolovich and Artysh Vyacheslavovich". Have you prepared Artysh since childhood to work with you?

- No, I never imagined that things will work out this way. The sons are four years apart. When Aidys was studying at the medical faculty of Russian University of Friendship among nations, Artysh was just finishing school in Kyzyl. There was no talk of medicine at all, he was planning to go to the Federal Security service college. A direction completely opposite from medicine.

And suddenly eh called me: "I am going to RUDN, medicine, like my brother." But Artysh, when he was taking exams in Kyzyl, missed by one point. He called: "Papa, that's it, I did not get in, there is only one spot for Tuva."

I remembered how I suffered when I did not get admitted where I wanted to go right after school, and decided to try to help. And as a result things worked out very well: instead of one spot, they assigned three spots for Tuva.

- Confess it openly, Vyacheslav Suder-oolovich: did you use your authority in the world of medicine?

- I confess. I called up my colleague - Nikolai Vasilyevich Zagorodniy, head of the traumatology and orthopedics department at RUDN. He offered: come tomorrow, well go to see the rector together.

We came, went to the rector's office - at that time it was Dmitri Petrovich Bilibin. We outlined the situation for him: two Tuvan graduates passed the exam, only missed by one point, and for both medicine is a family profession. The rector agreed: help was necessary, and they assigned another two spots for Tuva. In this way, thanks to Artysh, a girl got in as well whose father worked as an anesthesiologist at the republican hospital.

- Four doctors in one family - could it be too many?

- And there is a nurse in the family as well. The younger daughter-in-law Yulia, Artysh's wife - she works in my department as an OR nurse. But the older daughter-in-law, Aidys's wife has education in economics, she graduated for Plekhanov Russian University of Economics. Both daughters-in-law are Muscovites.

There are reasons to expect growth of the physician dynasty. I have two grandsons: the older one from the younger son, and the younger grandson from older son. Arturochka is Artysh's son from his first marriage he was born in Kyzyl, and Aidys's son Artemchik was born in Moscow. Artur is nine,, he is currently at Kyzyl lyceum No. 15, and when we have the pleasure of his visit in Moscow, he tells us with confidence that he will be a doctor just like his Papa and Grandpa. And three-year-old Artem babbles: "I will be a doctor."

- What were the happiest days of your life?

- When my grandsons were born. I always think these days: there I was, I had nobody, I was young and single, and then I got my wife, sons, and now even grandsons.

That meeting with Tatiana at the airport was fate, she became my wife and friend. Without her I would never have achieved what I have today.

FROM SEVEN TO SEVEN

- What is your workday like?

- I get up at six in the morning. The trip from home to the hospital takes 20 minutes. But that is only before Moscow roads develop traffic jams. At night, when I go back home after seven PM, the trip already takes a whole hour.

But that is still significantly less that when I used to commute to Moscow from Krasnogorsk, then the morning trip took forty minutes and evenings two, two and a half hours.

To save time an to be closer to my sons, who are living separately in Moscow, with my wife we sold our three-room apartment in Krasnogorsk at the end of last year, and moved to Moscow. In the southwest, in Tepliy Stan district, we managed to buy for the money only a two-room place, and we even had to get a mortgage. But now I can spend the time I save from commuting usefully - with patients.

At 7:30 in the morning I am already in my office. The workday starts with Internet. First I read my e-mails, I answer everyone, then I go to our specialty sites to learn what is new in traumatology. Without it is impossible, in medicine one has to learn and study every day, to discover something new.

Then to the patients, the rounds, and operating room. We have two large OR's for big cases, and two small ones for ambulatory. We have five surgeons working in the department, five OR cases every day except Saturdays and Sundays, and two of them are mine.

I always document the complicated cases with photographs and analyze them. After all, I also work at the Institute for higher qualifications of Federal Medical-Biological agency in the capacity of professor of the department of traumatology and orthopedics. And there I transmit all the accumulated experience to physicians who come from all the various regions: I conduct practical training at the department.

I specialize in endoprosthetic replacement of large and small joints - hips, knees, corrective surgery of feet, skeletal trauma, but I do other procedures as well if necessary.

Patients some here from the entire Russia.

SUGGESTION FOR COMPATRIOTS

- And our compatriots from Tuva, who need to replace a worn joint by an artificial one, can they in some way get to your department?

- Of course. In 2012, for example, two had surgery here in the federal program of joint replacement: a man from Kyzyl had a hip joint replaced, and a woman from Erzin had knee replacement.

And I have an advice for compatriots: if somebody wants to have surgery precisely at our clinic in Moscow, it is not necessary to go through Tuvan Ministry of Health. It is possible to contact our hospital directly, there is the necessary contact information at the web-site. And with x-rays sent in, with medical history of the disease, all the lab work and data of functional diagnostics, we can provide a physicians' commission make a decision if we can admit the patient as part of the federal program, and send it to the ministry of health of the region.

- Those who falls under the federal program, does not need to pay: the necessary prosthesis is free, and the surgery as well. But what is the real cost?

- A knee joint prosthesis costs about 110 - 120 thousand rubles. Hip joint prosthesis - with large head - up to 170 thousand . Through the Internet if you know the name of the company, you can find out the cost of any endoprosthesis.

The federal program allocates 120 thousand rubles per each patient. That includes the cost of the prosthesis, medications, work of medical personnel the pay of the staff.

The cost of the surgery is 35 thousand. I beg our accounting department not to raise the price because of the patients who do not want to wait their turn in the federal program and wish to have the operation without delay. The accounting is helpful, the price has remained the same since 2007. But mostly foreign citizens come as paying patients, Russians prefer to wait according to the federal program.

- Do you perform joint replacement surgery in Kyzyl?

- I always try to help my countrymen. But right now I have absolutely no time to work in Kyzyl, every day in Moscow is completely filled up, and one can't do surgery in a hurry under pressure.

Last time in Kyzyl in 2012, I operate don my own aunt, she was injured in a traffic accident; bilateral pelvic fracture, and fracture of both upper extremities. I brought implants for Moscow specially for her.

A whole series of operations for Tuvan patients was performed in 2005. The government of the republic was very helpful at that time: based on my professional notes, they requested finances from the funds of social insurance to buy the prostheses for twenty-five patients. And in the summer, during my vacation, I implanted all twenty-five of those prostheses.

At the end of 2000's, I tried to solve the problem, so that patients from Tuva, Tuvan students in Moscow, could come to our hospital N. 85 for free like the nuclear workers, getting highly qualified, specialized medical care.

We reached an agreement with Vasiliy Yurievich Urban, who worked as a plenipotentiary of Tuva in Moscow, he was not against becoming a sponsor and to allocate 10 million rubles. But it did not work out. More exactly, at the higher levels everybody agreed, signed, but then the chief physician of Tuvan republican hospital at the time did not sign the document about sending patients. He did not understand the issue, and started begging: better if Urban sends us the money, we will buy new equipment and cure everybody ourselves. So this way everything broke down because of one small-minded person.

FOR THE IDEAL WHITE

- What is the ideal patient like?

- One who does not deceive the physician: does not get fevers, wound heals nicely, gets discharged in a timely way. And who follows all the instructions correctly after discharge. At our department the patients stay hospitalized for ten days post-surgery, until the sutures are taken out. The we discharge them, on crutches after joint replacement. At first, so that the soft tissues would heal properly they have to use additional support.

After a certain period, the patients come back - this time to the rehabilitation department. Therapy exercise for re-establishment of all the functions has to be performed, and it has to be done correctly, under doctor's supervision.

- Were there any unsuccessful case?

- Of course, without it it is impossible. Complications do not happen only if you do not operate. There is always a certain percentage of complications, in our department it is two percent.

- Which of your awards is the dearest to you?

- The title of National physician of Republic Tyva, which I received in August 2009.

- The most frightening thing for a surgeon - trembling fingers - does it worry you?

- No. My hands never tremble. Apparently that happens after you operate for seventy years.

- How long do you plan to stay by the operating table?

- I will keep operating as long as I have the strength. As long as God lets me, I will keep operating.

- The most important quality for somebody who decided to pick the profession of a physician?

- Humanity. He should understand problems of other people, feel their pain. He should respect his patients, encourage them with a good word.

And always feel personal responsibility to the patients.

If somebody wants to put on the white coat, he must be clean and white inside his soul.

- But nobody is ideally white.

- Of course not. But one should always strive for it.