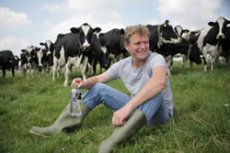 Russian information agencies a few days ago disseminated the news about a British farmer who produces Tuvan araga. It is said that James Bond himself tasted it. Details below.
Dairy farmer Jason Barber from Seaborough Manor told the "Dorset" journal in September, how he makes cheese and magnificent vodka that gained recognition in the country.
The Barber family has been involved in farming since at least the early 1800's if not earlier. Jason's father moved to Seaborough Manor in 1958. In 2000 Jason took over his father's farm and started his own business - dairy farming. The farm consists of 379 acres, of which 100 acres belong to Jason. Additionally he rents another 120 acres from adjacent neighbors. The farm gets milk from 250 cows, and each cow produces about 26 liters of milk every day on the average. In the summer the cows graze on pasture lands, and in winter they are fed grass and corn silage.
He started off his new business in making milk araga in May of last year, and as Jason said: "The idea was born from a wish to diversify the production of my herd (not even speaking of having a lively interest in this type of vodka). I knew about Tuva - Siberian nomadic nation which for many centuries distilled araga - vodka from fermented mare's milk. It took root in my mind, and made me set a task - to produce vodka using milk of my own herd. Even then I thought that milk can't be a bad raw material. The next step was to figure out how to do it - I did not imagine a fermented milk beverage. In the end we did it, and now we have what I think is the softest vodka in the world. If you drink Scotch whisky made of grain, French Armagnac from local grapes, Japanese sake from rice and Kentucky Bourbon from maize, why should not Dorset vodka be made of milk?"
Jason has partners in this business in Childhay Manor - Archie, his wife Elena, and Neil. They worked together actively on purifying the product, streamlining the system, accepting orders, working out a design, marketing, and general organization of the new business.
Jason and Archie together fulfill the orders of farmers' stores. Beside that, they had a large order for an evening of presentation of new Land Rovers, where among the invited celebrities was also the actor who plays James Bond - Daniel Craig. The milk vodka was on the tables.
The drink named "Black Cow Vodka" now has its own web-site, ( www.blackcow.co.uk/ )and was featured on the portal "Love British Food!", where it is propagated as a true local ecological product, and on a multitude of other sites, dedicated to alcohol and other products. Judging from the English farmer's attitude, he is apparently aiming at conquest of the world market with his Tuvan araka.