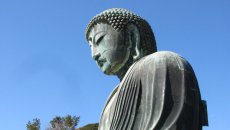 Tibetan sculptors will create a statue of Buddha for Russia's East Siberian republic of Tuva that will be the tallest Buddha monument in the country, Buyan Bashky, chairman of the Tuva Buddhists Union, said on Wednesday.

The monument, which is being erected on Dogee Mountain in the predominantly Buddhist republic's capital of Kyzyl, will be comprised of Buddha sitting on a throne.

Work on constructing a six-meter-high (20-foot) throne began in 2011 and the total height of the monument after completion is expected to reach 15 meters (50 feet), Bashky said.

"The statue of Buddha himself will be built in Tibet, and it is planned to be put up on Dogee Mountain in Kyzyl this fall," he said.

The cost of the project, according to various estimates, is between 12 and 13 million rubles ($383,000-$415,000). The statue is being funded by donations.

Tuva has a population of 319,000 people, and according to recent social surveys, 53 percent of them say they are Buddhists.

Currently, Russia's tallest Buddha monument is located in Elista, in the country's southwest republic of Kalmykia – another heavily Buddhist area – with a height of over 10 meters (33 feet). It is also the tallest Buddha statue in Europe.

The world's tallest Buddha monument is the Spring Temple Buddha, located in China's Henan province. Its total height is 153 meters (502 feet).