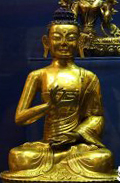 On October 20, Mariya Mongush, who is the leading specialist of the information-analytic department of the "Aldan Maadyr" National Tuvan Museum, announced to Tayga.info that some of the relics found during restoration of a broinze Buddha statue at the National Museum have been identified.
"The clerics Bayir-ool Shyyrap and Aganak Khertek announced at a press-conference that 17 objects and 23 fragments of relics which were found in the head of the Buddha statue belonged to great Buddhist teachers and prophets.
Thanks to the labels in Tibetan writing, a fragment of bone and hair of Naropa, piece of clothing of Bogdo-Gegen, as well as a piece of clothing of Tsongkhapa, were recognized among the relics. The rest of the artefacts has not been identified so far, because of the great age of the writing", explained Mariya Mongush.
All the Buddhist statues which were surrendered to the museum at various times had been opened and gutted, and relics were found only in the head of this particular Buddha statue. In the opinion of the clerics, this is a sign from above, prophesying great positive changes in our life.
"A find of this type is a very significant event, which predicts bright future, which will be expressed by increased unification of a multi-ethnic nation not just of Tuva, but also Russia, increase of spirituality,, and also further development of Tuvan religious traditions", announced the head of TUva, Sholban Kara-ool.
Currently the relics can be viewed at the museum, but it is possible that when a new khuree is built in Kyzyl, they will be moved there.
As Tayga.info announced, the actual origin of the Buddha statue is a mystery to the employees of the museum. The specimen apparently got into the collections of the museum during the Soviet era with a single inscription – "a Buddhist statue".