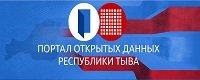 ---

Uraanhay Weekly Fixes New Dates - January, 14 and 22 - for Photocontest

12 January 2006

| 2431 view | 0 comments

Every week you can be a participant of the photo-contest 'One Day in the Life of Tuva and Tuvans'. No matter where you are - in Tuva or outside it but then necessarily in a company of Tuvans - make a picture of what you are witnessing, send your photo to the Tuvan 'Uraanhay-Weekly' (uraanhay@mail.ru) and become a winner of the photo-contest. The winner of the week will get a prize money (10 dollars), that of the year - an annual subscription to the Tuvan weekly. The nearest dates are January, 14, 22, 29 and 30 (new year). Do not miss a chance to have Tuvan folk-groups, tourists, students, touring abroad, pictured! The winner of the first contest is Elena Ondar, student of the Moscow State University. She made a picture of her grandfather and grandmother at the New Year night in Moscow.
Notice
New comments for news item are allowed for 365 days after publication.