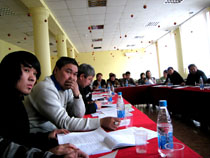 In the year of Tourism, Tourism Association was founded in Tuva. Today, its constitution was voted on by all the members of the constituent assembly – representatives of tourist firms, restaurant and hotel business, and cultural institutions. The Board of the Association was voted into office, consisting of 9 people and the President. The head of the firm "Alash-Tavel", Orlan Kirov, the "corypheus of Tuva tourism" as his colleagues call him, was selected as the head of the Association.
Entrance fees and yearly dues were confirmed. It is known that the Association and its members will be introduced at the First International Tourism exhibition, which will open on February 25 in the sports-complex "Subedei". This is where the official start of the Year of Tourism will be marked.
Representatives of tourist business from Mongolia, China, France and Finland are expected to attend. Delegations from regions of Siberia will also participate in the opening - Krasnoyarsk Krai, Khakassia, and Kemerovo region.
The expo will take two days – February 25 and 26.