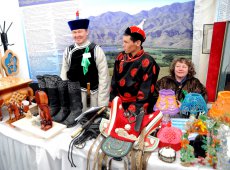 Liver kebab, one of the chief Tuvan delicacies - sogazha - was introduced in the framework of tasting of national dishes at the Second International Tourism Forum "Tuva: Crossroads of routes and cultures", which took place in Kyzyl on 5 April. It brought together the heads of Siberian regions, borderland aimaks of Mongolia and representatives of tourism business. A yurt and tent town were constructed on the main square of the capital, where the key tourist projects of the region will be introduced.
In the yurt-town, it was possible to become acquainted with the culture and way of life of natives of the republic, to visit Todzha reindeer-herders' choom, to obtain figures of carved stone made by masters of Bai-Taiga, and to check the quality of felt and felt toys made by craftsmen from the mountainous Mongun-taiga. Visitors learnt about the way of life of Russian Starovers,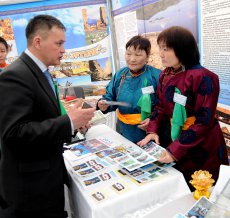 who live in beautiful places of Kaa-Khem district. They had a chance to obtain a variety of souvenirs - from agalmatolit figures to decorations made of felt and silver, as well as textile artifacts of folk head wear.
A Book Yurt was here as well, organized by the Ministry of Culture of the republic. Books by Tuvan authors were introduced here, publications about attractions of Tuva, and about the rich cultural heritage of the region.
A conference on the subject of "Ethnocultural tourism as a factor of development of the territory" took place in the framework of the forum.
Remember that tourism was determined to be one of the priorities of the socio-economic
development of the republic. During last year, 37,422 Russian tourists and 1,515 tourists from abroad have visited attractions of the republic in the center of Asia. The increase of the tourist stream constituted 15% in comparison with 2010 in total. At the same time, the number of foreigners increased nine times.
Folk cuisine recipe
Sogazha - one of favorite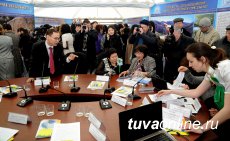 Tuvan dishes, which is prepared very fast and immediately after a sheep is slaughtered and portioned. Every piece of the liver is wrapped in a layer of inner fat, salted, threaded on a spit and grilled over hot coals. Sogazha is eaten hot and very fast.