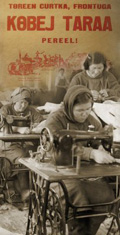 Today, at the Central Museum of the Great Patriotic War, the exhibition "People's Republic of Tuva – Everything for common Victory!" opens in Moscow, and will remain open until the end of the anniversary year.

The exhibition is organized in the framework of special projects "Moya Pobeda" (My Victory) of the Tuvan government, and "Geography of Victory" of the federal patriotic museum at Poklonnaya Gora. This exposition throws light on one of the "blank pages" in the history of WWII. It tells of the contributions into the Victory by a practically unknown ally of the USSR – People's Republic of Tuva. "For us, this exhibition is a milestone, - says the head of Tuva, Sholban Kara-ool. – There is a tremendous international-patriotic potential in it. It is an opportunity to present an objective historical evaluation of Tuva's participation in the WWII, and to emphasize the proportionate result of the friendship consolidated during the brutal war years – in 1944, Tuva entered the large family of the nations of Russia."

The people of Moscow and guests will have an opportunity to see rare archival documents, originals of applications of citizens of the republic asking to be sent to the front, photographs, objects of daily use of the Tuvans – nomads of those days – altogether more than 200 specimens from the collections of the National Museum and the Central State Archive of the republic.

People's Republic of Tuva became the first foreign country to officially denounce the aggression of Hitler's Germany and to come forward as an ally of the USSR.

At the Great Khural (assembly of Tuva), on June 22, 1941, a declaration was unanimously approved, which states: "The Tuvan nation, with the entire revolutionary party and government at its head, without sparing lives, is prepared to participate with its entire strength and means in the battle of the Soviet Union against the fascist aggressor until the final victory over him."

According to expert evaluations, the combined quantity of contributions by Mongolia and Tuva to Soviet Union during the wartime, was only by one third less than the quantity of contributions supplied by the "Western" allies – from the USA,, Canada, Great Britain, Australia, South Africa, and New Zealand all together!