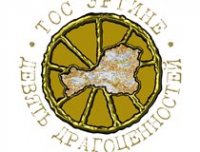 One of American participants in the "Tos Ertine" project, musician Steve Sklar, is currently visiting Tuva. He is the founder of English-language site www.khoomei.com, which is the main source of information about throat singing for western listeners. This internet resource offers khoomei lessons, tips for beginners, introductory information about Tuva, announcements about concerts and lessons of Steve himself.
Steve Sklar is a khoomei enthusiast. He is one of the first people who designated throat singing as a "treasure of Tuva", and sent his report on January 23 to the contest. "Khoomei is a trademark of Tuvan culture and of Tuva. If you mention Tuva anywhere in the West, the first association is - throat singing", Steve said.
During his current visit to Tuva, Steve Sklar and his wife Johnna Morrow participated in the "Ustuu-Khuree" festival, and even won a prize as the best western performers.
He has visited Tuva in 1995 and in 2001. The difference is striking. "Everybody has new windows, there are new cars everywhere, the city became more beautiful, - Steve tells us. - Before, the fruit and vegetables at the market looked somehow sad. Now everything looks more cheerful."
The musician can talk about his journey to khoomei for a long time.
"I am a musician, and my chief instrument is the guitar. I also play the didgeridoo and the khomus. I have also been singing khoomei since January of 1995. of course, myway to khoomei was strikingly different from yours. I did not grow up surrounded by other khoomeizhi. I first heard harmonic singing many years ago, when Cd's with Tantric singing of Tibetan monks first appeared. Later I heard samples of western overtone singing, and a little bit later, in the early 90's, I heard Mongolian khoomei. Soon after that I heard "60 horses in my herd", the first album of Huun-Huur-Tu, and that was my introduction to Tuvan throat singing.
people ask, how I came to khoomei, and I answer that khoomei came to me. Or more exactly: when I heard this music, it resonated in my body and soul, and I understood that I had to learn to produce those sounds myself. for a long time I kept trying to learn it by myself, but I managed to learn only overtone singing, the throat technique of true khoomei did not open for me.
In January 1995 I had the luch to get to a Huun-Huur-Tu concert and to meet the musicians. During our meeting I told them that when I heard their music, I could "see" the places where the music and such talented people was born. They remarked that I should come to Tuva to see for myself that what I "saw" corresponded exactly to reality. (It turned out to be true.) we became friends and in the summer of the same year I went to Tuva as their guest. I was fortunate to spend several weeks in Tuva, to get to the khoomei festival and symposium. This trip gave me the priceless experience of immersion in the medium. I came back again in 2001, already with my wife. This trip coincided with the pre-election campaign, thanks to which we were able to visit even very remote corners of Tuva, to see political meetings, and evidence of democracy. It was very touching to visit Bora-Taiga, the home of Marzhimal Ondar, who was the teacher of my teachers.
Naturally, as I have already mentioned, my experience of familiarization with khoomei was different from the traditional way of Tuvan khoomeizhi. I started learning throat singing at the age of 38, and no neighbors could help me with it. I studied voice techiques seriously, anatomy and physiology of voice production, trying to imagine how one can sing in the various styles. Almost every year I would meet with the Huun-Huur-Tu and they helped me to perfect myself.
Soon I started hearing rumors that people in various corners of the world have heard that I can sing khoomei and explain how it is done, and to teach khoomei. So, securing the permission and approval of Huun-Huur-Tu, I started teaching throat singing. Since that time, I have performed at concerts, conducted seminars in dozens of different places, published recordings with my own ensemble as well as with other groups. Tuva and khoomei have become the main motivating forces in my life.
Now, when I perform at a concert or conduct a seminar, it is very important for me to start with a story about tuva, the customs and culture. I try to do it the best I can. I try to explain to people that for them it is also very important to respect and observe those traditions, to become a part of this culture. Many of my students have visited Tuva to reach a deeper understanding of Tuva with their minds, soul and body."
Steve Sklar believes that it is necessary to build a memorial in Tuva, where it would be possible to pay homage to khoomei. It could be an Alley of a Hall of Fame of Khoomei. Aside from Tuvan musicians who are known all over the world, here other countries, which have traditions of producing some type of sounds like khoomei could also be introduced. There are more that 40 of them. It would attract the attention of tourists.