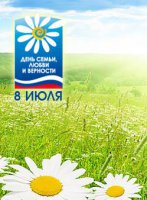 Plenipotentiary representative office of Republic Tyva in Moscow is sending to Tuva a set of medals "For love and fidelity" of the Foundation of Socio-cultural initiatives, headed by wife of President of Russia, Svetlana Medvedeva, to be given to50 Tuvan families during celebrations of the Day of the family, love and fidelity.
This Russian holiday originated thanks to Prince Petr of Murom and his wife Fevronia, who lived in 13th century and became models of spousal fidelity, mutual love and family happiness already during their lives. This family couple is worshipped by Orthodox Christians as protectors of the family and marriage. According to legend, Petr and Fevronia died on the same day - 25 June (8 July in new style calendar) 1228. Their bodies, laid out in different places, miraculously appeared in a single coffin, which was considered a miracle. Petr and Fevronia were canonized at a church synod in 1547. Their remains are kept at the Trinity cathedral off the Holy Trinity monastery in Murom.
Since that time, the Orthodox world honors the family protectors on 8 July. The tradition of lay celebrations for Petr and Fevronia has been established in Murom in the 90's: they decided to combine the Day of the City with the Day of Family values. The Day of the Family, Love and Fidelity became a large-scale holiday in 2008 mostly by the initiative of the wife of Russian President S. Medvedeva. Since that time, the holiday has been confirmed by the Inter-religious council of Russia, it received support in regions of Russia, it obtained its symbols (daisy) and awards (Medal for love and fidelity).
The medal is awarded to citizens of Russian Federation - couples who registered their marrisge no less than 25 years ago, and became known among their co-citizens for the strength and stability of their marriage ties, based on mutual love and fidelity, achieved prosperity secured by working together, and who have brought up their children to be worthy members of the society.