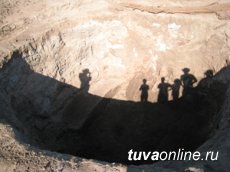 The first days of the second field season of the archeological-geological expedition of Russian Geographic Society "Kyzyl - Kuragino", taking place in the Valley of Tsars (Tuva) has already made an interesting discovery. A young member of the team, Chingis Tulush discovered a gold earring with a convexity and a ring of small beads in the stone embankment of "Ak-Dag-2" burial grounds.
The Eerbek archeological team is led by Demir Tulush, a staff member of the archeology section of TIGI. Together with the Institute of material culture of Russian Academy of Sciences, he leads the work on the burial grounds "Ak-Dag-2" as well as "Eerbek-10".
According to preliminary evaluation, the scientists date the find to the period of early Middle Ages. It was lost or intentionally hidden between the stones of the burial grounds about one and half a millennium ago. There is also a great probability that the earring was a part of the burial inventory and was dragged above ground by rodents. Once the burial is excavated, it will show the accuracy of the preliminary hypothesis.
Recall that the official start of the international archeological camp "Valley of Tsars" was on 8 June.
This year, volunteers from various regions of Russia, countries of SNG and abroad , are participating in the Russian Geographic Society project - archeologic-geographic expedition "Kyzyl-Kuragino". For many of them, this is an opportunity to touch ancient artifacts with their own hands, and to contribute something to the archeological study of Tuva. Archeologic works go on in Krasnoyarsk Krai as well - a camp "Yermak" has been set up for volunteers.
Unexpected find of the earring inspired all participants of the archeologic-geographic expedition. New discoveries weren't expected any earlier than the middle of July, during the second shift of volunteers in opening the kurgans. Members of the Eerbek team continued to work with even greater enthusiasm. They will have to excavate 5 kurgans during this field season.