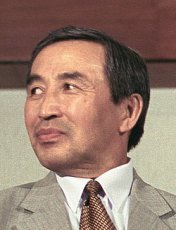 Today Sherig-ool Oorzhak is celebrating his 70th anniversary. Born in the year of the Horse he run the republic over 17 years over 3 terms (1990-2007) He graduated from the Timiryazev Agricultural Academy (Moscow) and began his labour activity as the head of the Shekpeer state-farm (Baryyn-Khemchik district). Then his work was associated with the communist party: as the first secretary of the Baryyn-Khemchik district party Committee, then of the Ulug-Khem Communist Party Committee, then the third secretary of the all-Tuvan Communist party committee. In 1990 he was appointed the Chairman of the Council of Ministers of the Tuvan ASSR. In 1993 he was elected the 1st President of the Republic, in 1997 re-elected, and winning the elections again in 2002.
He strove for power in 2007, but failed. There was a prolonged parliamentary crises in Tuva after which Putin proposed a 40-year-olf Sholban Kara-ool to the highest position in the republic. Tuvan parliament approved the candidate.
In 1993 Oorzhak gave an interview to the Centre of Asia newspaper, where he confessed that his favourite drink is green tea, and his political heroes are Caesar, Genghis-Khan and Roosevelt. He likes working the earth and taking care of his grandchildren. He has 5 children and 7 grandchildren. His wife Sara Oorzhak is the head of the Children's Fund.