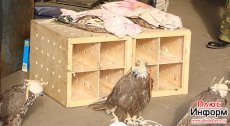 Small woebegone figures were lying on the dirty garage floor. Legs tied up, "camo' feather pattern on the chest, and helmet-like hoods on their heads made them resemble captive soldiers. Soldiers, who have lost their war.
Speed and relentlessness
An attacking falcon represents approximately one kilogram of steel muscles and unbreakable bones, charging at a speed of more than 200 km/hour. He strikes with his whole body and claws, braking slightly at the last moment, so that he would not be crushed himself. This beautiful bird of prey has no natural enemies.
The belt of the Great Steppe, stretching from the Black Sea to Mongolia, has been the home range of the baloban falcon since time immemorial. But this huge expanse does not mean that there are many of them. Falcons are not urban pigeons who fly in flocks.
In Tuva, the baloban population density in areas suitable for nesting is on the average one breeding couple per one square kilometer. When the population is calculated over the entire territory,( including spots where this species can be seen in the summer), the density is on average 5.5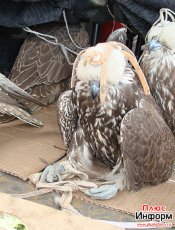 pairs per 100 square kilometers. A group of research scientists who worked in Tuva as part of the international project "Baloban in Russia" estimated the numbers of balobans in Tuva as 370 - 390 pairs.
This number decreased somewhat in September.
"The arrested"
High speed, well developed musculature, ideal eyesight (the pupil expands over the entire eye), make the falcon an ideal hunter. And that is where their weakness lies. The falcon's hunting instincts lead him into peril, make him vulnerable, and it is not difficult to capture him. But not only hunters want to own a tame falcon; owners of large hotels want them as well. The falcons frighten away small birds that mess up the building walls, sit on the heads of statues, and cover the shiny flagstones of clean courtyards and squares with their droppings.
On the floor of the State hunting commission garage, 14 small captives squirmed forlornly , not understanding where they were, and not knowing what to do. They could not really take any action, because they were drugged with alcohol, and could not remember the pressure of walls of the tiny boxes. Next to them, on the transport boxes, two little corpses of their relatives lay under a rag. Did they die of alcohol poisoning, did they suffocate, or just succumbed to stress?
They were stuffed into narrow "pencil boxes" rolled up like inanimate objects, without being able to move.
Altogether, sixteen of them were captured. Possibly even more, but some die during the hunt. Another two died later in the steppe, when they were taken there to be released. They were too weak to take this stress.
All the falcons were less than three years old - some, probably the younger ones, were the weakest.
My bright falcon
The name baloban for this bird of prey may possibly be borrowed from Turkic languages, which have many word of similar sound and meaning - balaban in the meaning "great", and balban - "strong man", "wrestler".
Strong men, epic heroes - that was the association of meaning among all nations. In Slavic mythology, the falcon is a symbol of manly heroic beauty and bravery; it is the traditional image of the bridegroom in wedding folklore.
And in Tuvan language "nachyn" - a wrestler, is also a falcon.
The stock epithet for a falcon is "young, bright falcon" applying this attribute to young handsome, good men. Falcon eyes are sharp eyes. Fairy-tale heroes turn into falcons to overcome unthinkable distances in a moment, to take an enemy by surprise, to suddenly appear before a beautiful woman.
One of the most mysterious and bewitching heroes of Russian fairy tales is called Finist-Bright Falcon. His name clearly suggests the immortal phoenix. And Russian girls proudly and lovingly call their beloved: "My bright falcon!"
The Poachers
The balobans are excellent hunters, sharp observers, rulers of the sky. Did they bother anybody? If it weren't for them, the whole steppe would be overrun by mice. The only "sin" of the falcons is their price. One falcon can sell for $20,000 dollars, and a trained one even up to $100,000. So far, it is hard to say who caught them and where, but they were being transported by two men from Kyzyl.
It is not known who was the customer. Their hoods had labels "Made in Pakistan". Were they planning to take them to Pakistan, or is it only where the hoods were made? Investigation will show.
The transporters were arrested on 7 September in Tes-Khem district of Tuva during joint activities of Hunting commission and the police. Illegal hunting of birds and animals, hunting of which is totally prohibited, committed by a group of persons by preliminary intention, or organized by a group, is punished by a fine from 100,000 to 300,000 rubles, or incarceration up to two years. This is from the Criminal Law Codex of Russia (Article 258).
Sooner o later, the poachers will be sentenced. But the dead birds do not care anymore. First they were injected with vodka as soporific. Then they were packed tight in small boxes. Then they were left to die.
To freedom
On 7 September the poachers were arrested, the birds were released from the boxes and kept for observation for some time so that they could recuperate, get rid of the toxins, to fluff up their feathers. On 8 September, the staff of State hunting commission, together with scientists from TIKOPR took the birds to the steppe to release them. The scientists have no way to perform a "post-traumatic" therapy; huge cages and a solid material basis are necessary for that. When they decided that the falcons were sufficiently recuperated, they took them to be released under a strict supervision of a lawyer. This is an compulsory procedure, to make sure and certify that the Red Book birds were really released in their natural habitat.
In the car, the birds sat on the floor in a very disciplined fashion, like little "arrestants" just like before on the garage floor. Their hoods were not take off and they weren't untied, so that they would not start thrashing about and injure themselves.
Not all of them flew away
They took off their hoods, untied their feet…But not all of them could fly right away. The first one to be untied was the weakest, the smallest, perhaps the youngest one. The baloban could not even move. They put him on the car hood. He did not sit for long. His neck got weak, his head drooped. The falcon died with his eyes open.
Why? Instinct of a hunter, who is always trying to remain in control, to observe everything that goes on? Or a wish to see the sky for the last time? Or hate for people, who all look alike to him, and he can't differentiate between those who captured him, and those who brought release?
The stronger falcons began to thrash about as soon as their hoods were taken off. They weren't going to give up so easily. But not all of them were strong enough.
And another falcon dropped his head.
None of them could fly right away. At first they just sat on the car's hood. Then the people took them and threw them into the air. After flying for a few meters, the birds heavily sat down on the ground again, glaring at people from the grass. But they could not fight back when they were picked up again.
The people patiently kept picking the birds up and throwing them again, so that they would be able to stretch their stiff wings. To an outsider, this could have seemed entertaining, to see adult people chasing birds over the steppe. But it was sad work. Nobody can tell how many of the birds will survive and take up their territory again, will be able to hunt again, to live again.
Deadly arithmetic
Out of the sixteen falcons confiscated from poachers, four are already dead - 25%. And that is even before leaving Tuva. How many would have actually reached the customer? One or two? Not all the poachers get caught. How many falcons get captured altogether, and how many survive?
The hunters get just pennies for the falcons. And for those pennies, they deprive Tuvan sky of its pride
The good work of the State hunting commission saved twelve falcons this time. One girl and eleven boys. We will hope that all of them will survive, sooner or later will pair up and mate again. They have no natural enemies. But they have to be protected from greedy two-legged predators.
The most important thing is not to be indifferent. Hardly any poachers can keep their activities absolutely secret, certainly somebody will know if another crime is being prepared, that the poachers are going hunting again. And if he can't stop them, then it is possible to call the police or the Hunting Commission for help.
Otherwise our bright falcons will remain only in fairy-tales. Or working as security guards in hotels abroad.