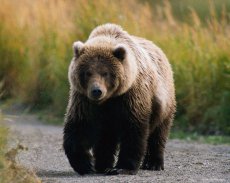 Forest fires, that destroyed bear habitats in Tuva, forced the bears into a corner - as "Komsomolskaya pravda" informs us. Emaciated and homeless, when they gave it some thought, they took off and went on the road.

- According to information of hunters from Tuva, about 80 bears went on the move, - says Mikhail Kokorin from Kaz village. - They left their homes and are moving towards Kuzbass. Our taiga in Gornaya Shoria - that is what is drawing them.

This "army" of bears will soon get to Kuzbass, however, some will separate along the way.