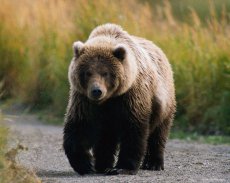 Forest fires, that destroyed bear habitats in Tuva, forced the bears into a corner - as "Komsomolskaya pravda" informs us. Emaciated and homeless, when they gave it some thought, they took off and went on the road.
- According to information of hunters from Tuva, about 80 bears went on the move, - says Mikhail Kokorin from Kaz village. - They left their homes and are moving towards Kuzbass. Our taiga in Gornaya Shoria - that is what is drawing them.
This "army" of bears will soon get to Kuzbass, however, some will separate along the way. These bears will settle down in attractive places. In connection with this, in the south of Kuzbass, especially in the Tashtagol district, security organs have provided instructions explaining what to do if a bear shows up, and how to deal with this complicated situation: where to report it, whom to call in to help, and how to protect yourself while waiting for help.
In the words of eyewitnesses, there is plenty of bears in the Tashtagol even without the expected guests. Recently a bear was observed lurking near Shertemesh. Three baby bears were hanging around the margins of Kaz village, playing, and left only when they heard their mother calling them.