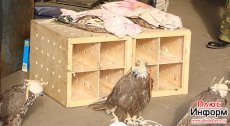 Small woebegone figures were lying on the dirty garage floor. Legs tied up, "camo' feather pattern on the chest, and helmet-like hoods on their heads made them resemble captive soldiers. Soldiers, who have lost their war.
Speed and relentlessness
An attacking falcon represents approximately one kilogram of steel muscles and unbreakable bones, charging at a speed of more than 200 km/hour. He strikes with his whole body and claws, braking slightly at the last moment, so that he would not be crushed himself. This beautiful bird of prey has no natural enemies.