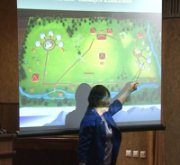 Results of complex expedition research of therapeutic and touristic-recreational use of natural arzhaan complex "Choigan mineral waters" will be presented today at a scientific seminar at the National Museum of Tuva.
The initiators of this educational seminar are the Scientific Research institute of medical and social problems and government of Republic Tuva, Tuvan regional section of Russian Geographic Society, and OOO "Laboratory of arzhaanology and tourism". Evaluation of results of clinical medicine studies of natural therapy at the springs of Choigan arzhaan is on the program of this action. It includes diagnostic laboratory studies, cardiologic studies, possibility of therapy for neurologic, ophthalmologic and musculo-skeletal disorders at the Choigan arzhaan mineral springs.
The scientific research workers and physicians of medical institutions took into account also the social-demographic character of the citizens who came for recreation and therapy to the Choigan arzhaan complex during last year, and the adaptation potential of human organism to high altitude mountain conditions. Beside that, the arzhaan complex "Choigan" became the subject of research in the capacity of touristic-recreational territory, which anticipates development of tourism on foot along the "Toora-Khem - Arzhaan Choigan - Toora-Khem" route.
An agreement will be signed at the seminar about cooperation between the national institute of medical-social problems and government of Tuva, and Tomsk Institute of balneology and physiotherapy in the sphere of scientific studies and exchange of experiences.
Scientific research workers of both institutions will participate in the seminar, as well as students from Tuvan State University, and medical and social workers of institutions of the Ministry of health care and social development of Republic Tyva.