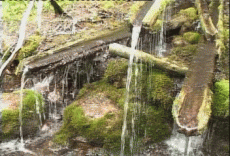 One of the chief riches of Tuva - its mineral springs (arzhaans) - will become the subject of detailed study by medical scientists this summer.
"We decided today to send 120 physicians and medical nurses to study our 35 arzhaans and mineral springs this summer, - the head of the region, Sholban Kara-ool announced on his page of Vkontakte. - We will make a contract with Tomsk institute of spa sciences, and under that aegis, we will perform the necessary complex study of therapeutic and other properties of the mineral springs. Science will provide the answers as to who, where and how is to take healing baths. It is fully possible that somewhere we heal, but somewhere we could get hurt."
Tuva has immense balneologic resources, around which whole encampments develop during the summer. Peole come with their whole families to take cures at the arzhaans. The springs are also places of pilgrimage for visitors from other regions of Russia, who have heard of the miraculous effect of radon springs of the region. However, there is very little in terms of actual scientific proof. The therapeutic properties of those or other springs are transmitted by word of mouth from the previous generations of people living in the republic.
In the '30's of last century, with the support of Soviet specialists, the first attempts to study Tuvan mineral springs were made. The research was continued in the '70 - '80's. Last year, with the support of Russian Geographic Society, scientific expedition headed by Tuvan scientist Kara-Kys Arakchaa , studied the properties of one of the most inaccessible arzhaans of Tuva - Choigan, located on the border of Todzha kozhuun, Buryatia and Irkutsk region.
Last year Tuva adopted an all-around program of development of sanatorium-spa work for 2013-2014. More than 20 million rubles will be allocated to its realization. Means for scientific research to determine the healing factors of the arzhaans are anticipated, as well as salt and mud lakes, and research at various water bodies, with scientific studies to recognize them as therapeutic and useful for rehabilitation.