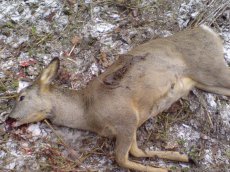 This was announced by the head of State Hunting Commission of Tuva Alexander Novikov. The arrest took place on the night from 31 December to 1 January as a result of co-operative action with the police force of the republic. Today, a criminal action was filed as to the fact of illegal hunting on the territory of nature preserve "Khut". During the co-operative raid activities during operation "Les" (Forest) and "Pravoporyadok" (Law enforcement), around 6 o'clock an "UAZ" vehicle did not obey the police order to stop for a check of the cabin.
During the chase, firearms were used, with three warning shots into the air first, then 9 gunshots to the wheels of the vehicle. As a result, the vehicle was stopped at 3 km of the highway "Park Khut - Turan". A 40-year-old citizen of Kyzyl was at the wheel
During the search of the vehicle, 8 plastic bags were found in the baggage compartment and confiscated, which contained meat of 12 butchered carcasses of Siberian roe-deer. Two passengers were in the vehicle - both unemployed citizens of Turan. Police officers confiscated a firearm of "Saiga" brand, and 12 butchered carcasses of Siberian roe-deer.
Currently, a complex of investigative activities are being carried out, aimed at establishing other circumstances of the case.