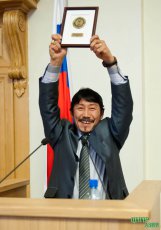 International contest "Best products and services of Eurasia - Gemma" determined the winners of the next qualifying stage. According to results of 2012, 710 enterprises won, including 150 from 45 countries of the world, and 560 from forty regions of Russian Federation. Among them are ten firms from Republic Tyva; makers of food products, commercial production and representatives of services. They all were awarded medals and certificates of qualifying tour "Best products and services of Siberia - Gemma-2012".
For "Bai-Khaak Akva" - bottled natural non-carbonated drinking water with content of silver - the award went to OOO "Bai-Khaak".
Individual entrepreneur Chechek Dembilovna Mongush - for bottled non-carbonated water "Arzhaan-Suu".
Individual entrepreneur Yakob Alexandrovich Nanetashvili won with his salami made in Kyzyl "Moskovskaya", "Servelat" and "Servelat Italyanskaya". State enterprise "Tyvamoloko" - with their sour milk product "Khoitpak".
OAO "Yurta" was noted for products from rare tree wood and for yurts, OOO "Kyzylskoye uchebno-proizvodstvennoye predpriyatie" - for a man's polyester and cotton protective costume for production and mechanical accidents.
OOO "Konditerskaya Edem" excelled with pound cake "Homemade with black plum".
Services also received awards. OAO "Hotel complex "Buyan-Badyrgy" for organization of stay, meals and conferences.
Entrepreneur Vladimir Anatolyevich Rudenko and realty company "Nedvizhimost Plyus" for support of transactions about commercial and residential real estate, land parcels, and consultations on mortgages.
OOO "Children's Health Camp "Orlyonok" - for organization of vacations for children and youth.
Yearly ceremony of awards to Siberian winners of the qualifying stage of International contest "Best products and services of Eurasia - Gemma", organized with support of Plenipotentiary of President of Russia in the Siberian Federal District, and under the patronage of the Interregional Association of Economic Cooperation of Russian federation "Siberian Agreement" was held on 26 December, 2012 in the Great hall of the Government of Novosibirsk region.
Next time participants will gather at the Government House of Novosibirsk region in spring of 2013 to summarize the final stage of the contest, where the winners will be awarded the golden statuette "Gemma".
Photo: Vyacheslav Soyan, director of "Bai-Khaak", won a gold medal in interregional contest "Best products and services of Siberia - Gemma 2012" for "Bai-Khaak Akva" bottled water. Novosibirsk, Russia, 26 December 2012.