French traveller Nicolas Vanier, who is attempting to cross Siberia in a dog-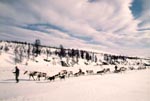 driven sledge has reached Russia's Krasnoyarsk territory. The regional centre of the Russian Emergency Situations Ministry told Itar-Tass on Monday that on Sunday the team of the international project Siberian Odyssey left Tuva republic and set up a camp near the Yermakovskoye settlement. Nicolas Vanier told journalists that he had spent two days in Kyzyl in order to give a thorough rest to dogs. He intends to move on to Khakassia. The Siberian Odyssey expedition participants intend to cover a distance of 8,000 kilometres across 13 Russian regions and finish on Red Square in Moscow in March.

Explorer, writer and moviemaker Vanier began his "Siberian odyssey" from the south end of Lake Baikal on December 2. There are 10 dogs in Vanier's sledge. The Siberian Odyssey is held with support of the Russian Emergency Situations Ministry. During the voyage the French group of cinematographers is shooting reports about Siberia for French television and airing them live.

During the journey Vanier intends to record serious degradations to the environment and biodiversity as a contribution to studies on the carbon cycle and ozone on the Eurasian continent. The research will help better understand Siberia's role in the climate system.

Nicolas Vanier devoted to expeditions 20 years of his life. In particular, he set an incredible record during his White Odyssey expedition crossing the Canadian Extreme North from Skagway in Alaska to Quebec (8,600 kilometres) less than in 100 days on his dog-driven sledge. Vanier with his group had also travelled across Siberia from Mongolia to the Arctic Ocean - on horseback in the mountains, in Lake Baikal in a boat, on a dog sledge, in tow, on pony and reindeer - through the endless Siberian sinter and finally in a canoe to the Arctic Ocean.