Famous French researcher and adventurer Nicolas Vanier has held a press-conference devoted to his coming 3 months' journey on a dog-cart across Russian Siberia. Siberian "odyssey" will start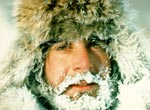 on December 2 from Lake Baikal and will end one hundred days later on the Red Square, Moscow. On this route there will be a 'Tuvan hook' - Nicolas will ride to Tuva from the North where a unique water-spring on the border between Irkutsk region and the Todja district of Tuva lies. It is the most diffucult stretch. almost unsurpassable. Still as the brave Frenchman underlined answering to a 'Tuva-Online's question it is the most beautiful place he heas ever been to. 'Tuvan Days' can fall on the Chrismas and the New Year will be probably spent by the Russian-French team in Khakassia. But nobody can surely tell. As the most of the 8000-km journey is cross-roads. Vanier is to overcome every day from 80 to 100 km. He is to finish on the Red square in March. His Siberian Odyssey is included into French school's ecological programs and thus schoolchildren via such online lessons will get acquainted with the Siberian provinces of Russia.

Vanier intends to record the serious degradations to the environment and biodiversity as a contribution to studies on the carbon cycle and ozone on the Eurasian continent. The research, conducted on the sidelines of the trip by some 20 European scientist and engineers, will help in better understanding Siberia's role in the climate system.