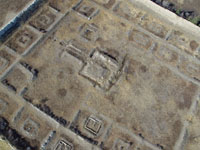 A recent inspection to the Tere-Khol district in Tuva, where this summer a large-scale archeological expedition will start excavations on the ancient Uyghur Fortress 'Por-Bazhyn', has proven tha camp is almost ready to host in late May the first shift of over 150 students and 50 specialists and service workers. The camp based on the former fish-storage site 8 km away from the Kungurtuk village, administrative center of the Tere-Khol district, comprises besides residential tents, bath-house, kitchen, dining house, first-aid post, etc. A pontoon bridge connects the island with the fortress ruins both to the district territory and the neighbouring island.

Students' recrutement into the summer expedition from universities in Moscow, Saint-Petersbourg, Kazan, Krasnoyarsk and Kyzyl is also under way.

As Irina Arzhantseva, one of the scientific supervisors of the 'Por-Bazhyn' project, said to Tuva-Online, the first group of specialists would come to Tere-Khol in mid-May. Geoscientists would make a magnetic reconnoissaince of the localitity with geo-radar that would help to reveal the latent reliefs and make a map of cavities and anomalies. Survey enginieers will carry out laser scanning of the island to make its three-dimension model, coordinate grid and fix ranging marks what would enable architects and archeologists to do a primary marking of excavations.

A restorer would take on the spot samples of the construction materials to be further analysed in Moscow laboratories.

The idea to restore an ancient fortress belongs to Sergei Shoigu, federal minister for Emergencies, native Tuvan. He used to work in archeological expeditions in his school years in Tuva. 'I remember quite well that the acheologists were always very concerned about the future of their outstanding finds" - Sergei Shoigu said to journalists - "They dreamed of the excavations to turn into museums in the open air. It was in regard of the ancient Uyguhr town near Shagonar (Ulug-Khem district) and Arzhaan-1 (1960-ties, Pii-Khem district) with a huge tsar burial mound 160 m in diametres. And their dreams never came true. We know about their unque findings now only by pictures and descriptions in scientific works.
We want it to be other way in case of Por-Bazhyn which I first saw on an aero film of the forest fires in Tuva, minister said. I got interested and now this project is far in process. We shall build there a Russian Shaolin and invite everybody to come there. And our youth will come I am sure. They will learn philosophy, Tibetan medicine, horseracing, and oriental martial arts in there,' Shoigu says.
The Uyghur town on a Tere-Khol island dates back to approximately the 8th century. It was ruined by fire. Little is known about its inhabitants. There were found rests of the only warrior who had been an extremely tall man with Europeid features.
Nowadays the ruins of the Por-Bazhyn fortress, which is located on a Lake Tereh-Khol island in Tuva near Russian-Mongolian border, look like a rectangular labyrinth of structures similar to a Buddhist or Hindu mandala.
The scientists suggest that the fortress might be a palace or a temple complex, which could be destroyed in a war action over one thousand years ago.