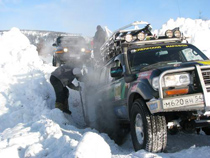 Trophy-Expedition "Metel-2010", consisting of 10 off-road vehicles started out on Jan. 2 from Novosibirsk, taking the route: Novosibirsk – Abakan – Kyzyl - Saryg-Sep - Kungurtuk. The main goal of this trip is the abandoned fortress of the Uighur Kagan Eletmish Bilge-Kagan, which was built in 8th century. The total length of the route is about 3100 kilometers.
"For us, the arrival of the expedition marks a unique way to start off the "Year of Tourism", - explains the head of the district administration of Tere-Khol kozhuun,
Eker-ool Manchyn. Tere-Khol has a tremendous tourist potential, and thanks to
the foundation "Por-Bazhyn", the primary tourist infrastructure has already been established."
It is one of the traditions of the OFF ROAD Club to celebrate the New Year holidays in this unusual way, as the newspaper "Komsomolskaya Pravda" (Krasnoyarsk) explains. Their list already includes the Arctic Circle, The Cold Pole Oymyakon (Yakutia), and the peaks of the main ridge of Ural Mountains.
In the words of the President of the club, Oleg Mayorov, they try to go to places where they have not been before. It definitely should be an unusual place, one which in some way or another left its mark on the history of the country.
Last year, the OFF ROAD team, consisting of 12 groups of enthusiasts in off road vehicles of various brands, from the native "Niva" to "Land Cruiser", started from Novosibirsk on January 2, through the route "Novosibirsk – Abakan – Turan – Yrban – Ak-Sug – Toora-Khem – Kyzyl – Novosibirsk", which in totality was 3700 kilometers in length. The "extreme" enthusiasts finished on January 13 in Novosibirsk. The last year's expedition was called "To the Source of Yenisei".