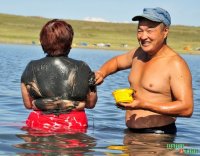 One of the few Russian analogs of the Dead Sea - Tuvan lake Dus-Khol will this year officially receive the status of a therapeutic - recreational location of regional significance. The government of the republic set a task for the appropriate agencies at a conference on 16 March, to prepare all the necessary documents for securing this legal status. The new status will obligate the organs of administration on all levels to provide more effective security and rational utilization of this unique lake, which has long been known all over the country for its therapeutic properties.
Aside from that, as the minister of natural resources of Tuva Viktor Kara-Sal announced, there is a plan of activities for 2011 confirmed by the government that anticipates the continuation of building an asphalt road to the lake, parking areas, and to determine which organization will be in charge of the use of land surrounding the lake and building in the area, including possible lodging houses, camping areas and general type of sanatorium-spa infrastructure.
Dus-Khol, as you remember, is located 45 km south-east from Kyzyl and is a hydro-geological natural monument of federal rank. The oval lake is 1.4 km long and 0.5 km wide. The greatest depth is 3.4 meters , however, it is impossible to drown in it even should you wish to, because of the high concentration of salt in the water - 280 grams/liter (the Dead Sea has 350 grams/liter).
The salts are compounds of chloride, magnesium and sodium, with a high content of bromide. The mineral content increases with increase in depth, as does the temperature. If the temperature at the surface is 23 - 26 degrees centigrade, it reaches 41 degrees at the depth of 1.5 meters. The natural heliothermic quality of the lake is a very valuable balneologic factor. According to specialists at the Ministry of health care of Tuva, there are many indications for therapy at Dus-Khol. They include diseases of musculoskeletal system, such as arthritis, polyarthritis, osteochondroses, sequels of fractures, pain of peripheral nervous system, types of radiculitis, sciatica, nerve root trauma, tendon trauma, as well as skin diseases - eczema, psoriasis, and allergic neurodermatitis.
Together with Dus-Khol, the status of a therapeutic-recreational location should also be applied to lake Khadyn, located one kilometer from Dus-Khol. It is less salty and it is a favorite place of recreation for Kyzyl residents. In near future, the authorities of the republic are planning to set up a spa-sanatorium complex base on these two lakes.