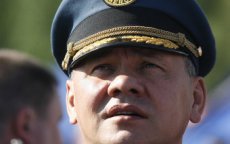 Delegates of Moscow region Duma unanimously supported the candidacy of Sergei Shoigu, who was nominated for the position of Governor of Moscow region last night by the President. Mr. Shoigu himself remarked that he will be sorry to leave the MChS; to him it will be just like sending a daughter off to be married after bringing her up for twenty years.
On Thursday, Moscow region delegates supported the president's candidate for the position of Governor of Moscow region: all 46 members of the Duma gave their votes to Shoigu. They had only one question for the new governor: what is his attitude towards the challenge of Moscow opposition to perform a total anti-corruption clean-up of the administration.
"Just like any normal person, I have a natural attitude to anti-corruption measures. We will not tolerate corruption, but will fight it," - Mr. Shoigu answered. At the same time, he refused to view his new position in terms of promotion or demotion. "I always think in the category of the volume of tasks, and here there are more of them," - Mr. Shoigu answered.
He considers his first step in the new post the inauguration, which will take place on 11 May, and the next - to meet the mayors of the Moscow region. "The region has the most democratic system of administration. On the other hand, the heads of municipal systems carry serious responsibility. I very much hope that I will receive their support," - said Sergei Shoigu.
He promised to evaluate the more substantial steps with the acting administration before 11 May.
The departing head is not worried about new minister of MChS.: "They have a good line-up of personnel."
And the post of the minister could be filled by, at the very least, five of his subordinates. At the same time, Sergei Shoigu will miss MChS like any other human being: "Of course, I am human. There you go, bringing up a daughter for twenty years, and then you have to give her away in marriage. Approximately that is how I feel now." To the journalists'' question: "Will there be no more fires in the region all year?" Sergei Shoigu gave a flippant answer: "That is a question for the Minister of Emergencies."