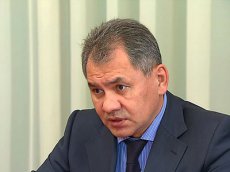 Redefining epic poetry for the 21st century, a native of the Siberian Republic of Tuva composed a heroic tale recounting the career of Tuvan politician Sergei Shoigu in an exalted medieval style.
The idea was hatched after the far eastern nation of Chukchi voiced its plans to compose an epic poem about billionaire Roman Abramovich, who was Chukotka governor from 2001 to 2008, said Shoigu's bard Aibek Soskal.
The Abramovich epic poem was actually a tongue-in-cheek proposal by spin doctor Gleb Pavlovsky from 2006, which never materialized.
But Soskal's story of Shoigu, ex-Emergency Situations Minister and current Moscow Region Governor, was actually created, appearing on Tengrifund.ru earlier this week.
The compact story of 1,260 words is told in prose unlike most epic tales, but sticks to the required exuberant style.
The story describes Shoigu as having "a nose like spring onion" at birth, but also "mighty as a bull" and playful by nature.
The protagonist ascends to heavens in the tale, only to descend in the Kremlin, where he is employed by a succession of three Russian presidents, whose names are given Tuvan readings such as "Puttug moge."
Soskal called the story a laboratory research on reconstructing epic tradition, but also praised Shoigu as a hero of the Tuvan nation.
Shoigu, 57, has not commented on the story as of Saturday evening.
An ethnic half-Russian, Shoigu is arguably most famous Tuva native, whose record 18-year-long tenure at the Emergency Ministry, which came complete with frequent television appearances during disaster cleanups, made him a political celebrity and earned him a steadily high approval rating. He was also a co-founder of the country's ruling party, the United Russia.