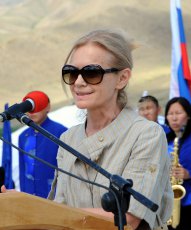 In the framework of a joint educational project of Russian geographic Society and Academy of citizens' defense MChS of Russia, a lecture was given by the head of Department of protective archeology of Institute of History of material culture of RAN, co-ordinator of archeologic-geographic expedition of Russian geographic Society "Kyzyl - Kuragino", Natalia Fedorovna Solovieva, where she explained how archeologic discoveries are made. Natalia Solovieva: You have heard about the extremely interesting rescue expedition which we are currently preparing in connection with the RGO project "Kyzyl - Kuragino". I mean the excavations in the "Valley of Tsars" in Tuva - a Valley of Kings is not only in Egypt, there is one in our country as well. It is famous for burials of Scythian nobles. One of the richest kurgans on the entire territory of the Scythian world is located in Tuva. Scythians lived on a huge territory extending from Tuva to the lower Danube. How did they manage to conquer such a huge area? Scythians were the first people to learn to ride horses, and it is because of that that were able to move with the speed of lightning and to be invincible. It is completely justified to consider Tuva the homeland of these people. The presence of major ancient monuments, burials of kings, is evidence that it was precisely here that the major political center was located. Kurgans like these have not been discovered anywhere else.
Scythian culture is famous for huge numbers of gold and silver decorative objects, which all have the Scytho-Siberian animal style in common. That means that all the Scythian decorative objects bear images of animals in movement executed with great mastery. As a matter of fact it was precisely Scythian kurgans that were the objective of people who were the first in our country to begin excavations. They were called "bugrovshchiks", (hill-diggers), because they dug "hills filled with gold". As you understand, these were Scythian kurgans with finds of the precious metal. Of course, they did not dig correctly, without the right method, but, nevertheless, the finds of the "bugrovshchiks" are displayed in many of the major museums of our country and of the world to this day…
Quite a few unsolved mysteries remain in the Scythian world, which you can touch if you take part in the RGO project "Kyzyl - Kuragino".