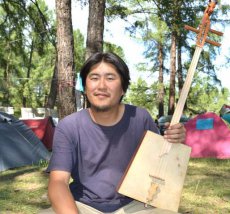 XIV international music festival "Spirit of Japan" will take place at the Moscow conservatorium. The first concerts will begin in early September. On September 7, at the Rakhmaninov hall in a program "Where the gods live", gogaku music, shigin singing, shibu dance and calligraphic art will be introduced by the ensemble headed by Okabayashi Yaeko (from Miyazaki in Kyushu).
On 9 September, a program "Unexpected Japan" will be shown by an ensemble with Kano Taeko, Kuzume Junichi, Terada Ryohei, and Yoshino Akira. They will introduce songs from Okinawa and Tuvan throat-singing. One pf the performers, Terada Ryohei, has long been practicing khoomei in its homeland of Tuva. He speaks fluent Tuvan and has Tuvan friends, including those on his page of VKONTAKTE.
Festival "Spirit of Japan" has been held at the Moscow conservatorium since 1999. It was initiated by the Center "Music cultures of the world", on which basis, by the joint efforts of Moscow composer Dzh.K. Mikhailov (1938-1995) and the famous gogaku music performer Iwahori Keiko, classes in Japanese music were began at the Moscow conservatorium (1993), and the ensemble of Japanese music "Wa-On" (1996) and Russian-Japanese center of music culture (1998) were founded.
The name of the festival "Spirit of Japan - Nihon no Kokoro" was inspired by the widely known book of essays by Lafcadio Hearn "Spirit of Japan. Kokoro.". Lafcadio Hearn was a talented European writer who joined his fate with Japan at the end of 19th - early 20th century.
The kanji character "kokoro" ("heart") holds several interconnected meanings: "senses", "spirit", "bravery", "decisiveness", "feeling", tendency", and "inner meaning" or "the soul of things".