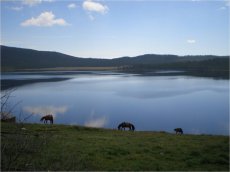 The once war-torn republic of Chechnya is among Russia's prospective economic powerhouses if its environmental potential is factored in, according to a study of Russian regions released on Tuesday.
The North Caucasus region only lost to the Siberian republic of Altai in the first Economic-Environmental Index of Russian Regions, prepared jointly by RIA Novosti and World Wide Fund for Nature (WWF) and presented in Moscow.
The top 10 regions mostly comprised remote national republics with undeveloped economies, while the bottom 10 was dominated by oil-producing regions which are literally pumping their future away, the study's authors said.
"If you're eating away your natural capital, it's not sustainable development," said Sergei Bobylyov, an expert on environmental management with the Moscow State University and the study's co-author.
The study evaluates the 83 regions based on adjusted net saving, a World Bank-penned alternative to GDP that takes into account depletion of natural resources, pollution damages and investment in human capital when calculating a country's or region's wealth.
In addition to Altai and Chechnya, the leaders on eco-friendly economic development included the far eastern Jewish autonomous region, the republics of Tuva in Siberia, Ingushetia, Adygea and Kabardino-Balkaria in the North Caucasus, the republic of Kalmykia on the Volga River and the Tver and Krasnodar regions in central and southern Russia, respectively.
The northern Nenets autonomous region ranked as the worst offender, with the bottom 10 also including the oil-rich Khanty-Mansiisk autonomous region in Siberia, the Sakhalin region and the Chukotka autonomous district in the Far East, the Tyumen region, the Orenburg region, the Yamalo-Nenets autonomous region, and Kemerovo, Irkutsk and Kostroma regions.
The index is based on data from the State Statistics Service, said Evgeny Shvarts, Director of Conservation Policy at WWF Russia.
Six regions from the top 10 were also among the poorest 20 regions on per capita income in the first half of 2011, the latest period for which official statistics are available. Six of the ten worst performers ranked in the top 10 of richest regions over the same period.
Regions that topped the rating did not necessarily put much effort into sustainable development, scoring high because of their geography and insufficient industrial development, Shvarts conceded.
But if the index becomes annual as the authors hope, regions rising or falling in the rating will reflect authorities' environmental efforts or lack thereof, Shvarts said.