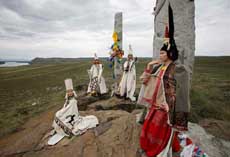 In Tuva, a special project "Nine Treasures" (in Tuvan – "Tos Ertine") started officially today. All the citizens of the republic, regardless of age or profession can participate. Even all those, who simply love the republic, but live outside its borders, are also invited to participate, whether they live elsewhere in the Russian Federation of altogether in foreign countries. The head of the Republic, Sholban Kara-ool, announced the project "Tos Ertine" at a meeting with representatives of the press, which was dedicated to the Day of the Press, on January 13.
"We live in a real pearl. We mostly take for granted everything that surrounds us,. Only a look from the outside turns our attention to the fact that there are true treasures all around us – natural, cultural, and historical. You know that the number "nine" in our Tuvan mythology, is a sacral number. Nine heavens, nine mountain passes, nine types of cattle, nine treasures. That is what our ancestors said. That is the reason why this competition is named "Nine Treasures"; let's gather them all together one by one."
Application to participate can be submitted by any individual inhabitant of the republic, by a work team, a journalist, office, a group of friends. Any object can be entered, including well-known Tuvan landmarks like the Center of Asia, Por-Bazhyn, Ustuu-Khuree, the stone Genghis-khan in Barun-Khemchik steppe, as well as obscure, but no less interesting objects.
As an illustrative example, the Premier suggested the amazing creation of nature on the banks of Manchurek river in Sut-Khol, a stone table on a leg. In folklore, it is called "albystyn shireezi". Margarita Kungaa wrote about it in the newspaper "Ertem sozu" (The Word of the Scholar).
Another example is the "curled tree", which became famous all over the world thanks to Vladimir Putin, who was photographed while resting on the tree.
"And we will make a tourist map of Tuvan notable things, listing these unique "treasures", and there could be more than a hundred, - said the Premier. - Tourist routes will be worked out. And your articles and video materials will be collected into a book and film about "Nine Treasures of Tuva", which will be published at the end of this year.
As the organization committee of this project announced, the notices about the unique, remarkable natural objects, historical and cultural monuments, and other local notable things will be accepted until March 1, at the e-mail address tosertine@yandex.ru, or at the address 667000, ul. Chulduma,18, Dom Pravitelstva, kab. 324.
The packet of documents should contain the description of the entered object, (its location, brief history, explanation of why this object is attractive, and any interesting stories, legends and traditions).
The collection of "Treasures" will be subjected to internet voting to select the best ones.
Remember that 2010 is the Year of Tourism in Tuva.