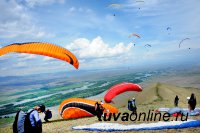 A real battle took place on the skies of Tuva between eagles, who are considered one of the symbols of Tuva, and paraplane fliers who were participating in the Russia Cup competitions, as the local TV channel "Novyi Vek" announced. Competitions on Mt. Boom 15 kilometers from Kyzyl brought many of the best pilots of the country from Moscow and Moscow region, Altai, Bashkortostan, Briansk, Belgorod, Samara, Novosibirsk, Tomsk, Kemerovo and Irkutsk regions, Altai and Krasnoyarsk Krai,, as well as from Kazakhstan - altogether about 80 athletes.
Unstable weather did not permit flying every day. But on one of the first flights,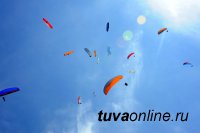 as the pilots informed the "Novyi Vek" TV company correspondent, the birds in the sky surrounded the pilots. One of them was visibly "in a bad mood", spread out its claws and tried to attack, but without results.
Today at a press-conference in Government of Tuva, the head judge of the competition, Vladimir Zadorozhniy, described the competition in more detail. He remarked on the good summer weather conditions. During the flights on 15 June, the best participant of that day stayed in air for 5 hours and 40 minutes. Out of the six days of the competition for the Cup "Center of Asia", five were summery, which is quite rare for this type of sport. The pilots consider the competition successful if even only half of the days have good summer weather.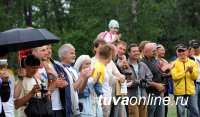 Vladimir Zadorozhniy especially noted the good organization of safety and security of the flights, and appreciated the involvement of Emergency Services and disaster medicine. Tuva is in a very promising position for turning into one of the centers of development of paraplaning, the veteran of this sport believes.
Journalists were interested in the eagles' attitude towards their competition. Vladimir Zadorozhniy remarked that this was an isolated incident. More often Tuvan eagles took the paraplanes for members of their own species and followed the pilots during flights. Zadorozhniy noted that "we did not meet such aggressive birds here, like for example in India". The team of Republic Khakassia took the first place in the "soaring" category.
In individual competition;
1st place was won, Russia Cup received by Tregubov Konstantin (Perm region)
2nd place - Kazakov Igor (Samara region)
3rd place - Bryakotina Olga (Novosibirsk region).
Ceremonial closing and presentation of awards to the winners of Russia Cup will take place on 18 June.