Tuvan artists together with the Romanov Gallery in Krasnoyarsk are organizing a project "Along the Yenisei", which will follow along the Yenisei river from its source to its mouth, where it flows into the Arctic Sea. Every year, another place will be sleeted for outdoor scenery painting along the Yenisei, every time lower downstream. And as a part of this work, exhibitions will open every year. The first team has already come to Tuva, where the Great River Ene-Sai has its source. The project commenced with an exhibition dedicated to the 50th birthday of famous Tuvan sculptor Kheimer-ool Baidosovich Dongak, raised in the tradition of Bai-taiga school of stone-carving school, who graduated with the "Red Diploma" from the V. Mukhina Higher Art School of Leningrad (1988).
Silent, concentrated, always in control of himself, young, never showing his age. In truth, Kheimer-ool Dongak is today one of the most demanded authors. Excellence throughout life. A gold medal at graduation from school in Teeli, brilliant record at Kyzyl College of Arts, and the Red Diploma from Leningrad. "He was always a good student, so that is why after the summer final exams, when we got together, we expected Kheimer-ool will say that he is going to MGU, or some other prestigious university, - classmate Mikhail Mongush tells us. - But he said I am going to Kyzyl Arts College. We were surprised. But he went on: I want to be an artist."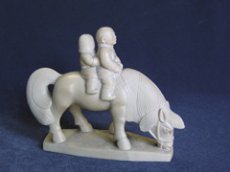 In Leningrad, under the mentorship of a prominent architect Mark Bubnov (author of projects of the Theater of Music and Drama and the National Museum of Tuva), Kheimer-ool produced his first major work "The Tamer" today this sculptural composition decorates the square in front of the national Museum. An element of inner struggle later shows up in many of the master's works. In sculpture, in stone carvings.
He took up a great educational labor, and lectured at student auditoriums. He took part in public projects., among others also in the reconstruction of "Ustuu-Khuree" temple.
Together with his colleague Alexander Oidup, he created many sculptural compositions - memorial to the soldiers - internationalists, to the First Russian teacher, Address to the Republic on the Federal route M-54, monument to Subedei in Erzin district, Mother, seeing off her sons to the Front in Mongun-Taiga kozhuun, busts of the Heroes of the Great Patriotic War on the Victory Square…
As one of the authors of the "Along the Yenisei" project, Kheimer-ool Dongak says, the idea was suggested by the biography of the legendary Krasnoyarsk artist of Finnish origin, Toivo Vasilyevich Ryannel. He often visited Tuva. And one day he wanted to go to the source of Yenisei. He asked an old herder Kurgen, where the Yenisei was born. And Kurgen asked first, if he knew who Bel was? Bel is the god of the sun, his realm was endless and boundless, and he had sixteen sons. They lived in the mountains of Udegen, from where even now the sun rises in the morning. And Bel sent his sons to see if there is a place which their father had not seen yet. But the sons got into a dispute, each of them wanted to be the first to break up the mountain which stood in their way. They argued for a long time, and the mountain never budged. The god got angry, and turned them into a river, the river sawed through the mountain, and this is how Bii-Khem was born. Before Yenisei takes the Ottug-Taiga mountain ridge by storm, it takes the strength of sixteen tributaries, the sons of the sun god. Yenisei obtains its character and heroic strength at the Great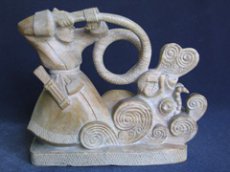 Waterfall. One of Toivo Ryannel's significant works takes its name from that - "The birth of Yenisei".
"The panorama that opened in front of our eyes is unforgettable, and tiredness disappeared entirely. A fast-changing holiday of hues, the roar of the waterfall, echoed by the cliffs and forested mountains - all of this set up a ceremonial mood and brought us to such a state, which enables one to work easily and freely. Everything was so unexpected that it took one's breath away. We never even dreamed of more real beauty. We saw the birth of Yenisei! Only in this moment I understood that my scheme of the picture, prepared beforehand, before the trip, was not necessary. Reality dictated the solution, which could not have been found with even the richest imagination," the artist himself later admitted.
The works resulting from the outdoor activities in Tuva will be exhibited in Tuva and Krasnoyarsk.
Kheimer-ool Dongak
Kheimer-ool Baidosovich Dongak is a stone- carver famous in Tuva, and a member of Artists' Union of USSR and Russian federation since 1989. He has participated in many local, Russian, USSR and international exhibitions since 1989; he has created bronze sculptures of our compatriots, Tuvan volunteers, Heroes of the USSR, veterans of the Great patriotic War.
The most prominent of Kheimer-ool Dongak's works is now the bronze monumental-decorative sculpture "The Tamer" in front of the Aldan-Maadyr National Museum of Tuva, which is symbolic of taming the wild forces of nature by the Tuvan heroic nomad, who is holding a large bow in his right hand as a symbol of protective forces from future enemies. As a whole, this monumental composition depicts the unification of human and natural powers before dangerous elements and enemies.
Since childhood, Kh. B. Dongak has liked to draw and to make wood and stone carvings. During his school years, he participated in exhibitions in the republic, and studied stone carving with an experienced master Donduk Khertekovich Doibukhaa, absorbing the principles of traditional Tuvan art. After he finished middle school, he attended the arts department of Kyzyl Art School; he successfully graduated in 1983. In the same year, Kheimer-ool Dongak was accepted at the higher V. I. Mukhina Applied Arts School in Leningrad in the department of monumental sculpture; he graduated with excellence in 1988.
The basis of his artistic world view is traditional culture and art of a nation of nomads, which preserves its ancient roots of folk art. In following years, Kheimer-ool Dongak spent a lot of time working on monuments in the kozhuuns of Republic Tyva, in Republic Kalmykia, he took part in local, regional, Russian, USSR and foreign art exhibitions. He often received awards, certificates, diplomas and medals of the Artists' Union for his artistic stone works.
In the last five years, Kh. Dongak took part in such major art exhibitions as "Folk Art of Russia" in Vologda in 2008, "Siberia - X" in Novosibirsk in 2008, "Russia" in Moscow, 2009, Days of Republic Tyva in Krasnoyarsk in 2009, "65 years of Soviet Tuva" in Kyzyl, 2009, "Native land" in Kyzyl, 2010, "65 years of Great Victory in the Great Patriotic war" in Kyzyl, 2010, "90th anniversary of TNR" in Kyzyl, 2011.
During this period, Kheimer-ool Dongak together with Alexander Oidup created significant monumental compositions such as "In memory of soldiers who died in Afghanistan" next to Kyzyl School No. 12, a marble monument to Subedei on the bridge over the river Erzin in 2009, a bronze monument "To the first teachers of Tuva" in Kyzyl in 2010.
Kheimer-ool Dongak began to promote Tuvan stone sculpting art by organizing his personal exhibitions from 2009 - 2011 in Barun-Khemchik, Dzun-Khemchik, Mongun-Taiga, and Bai-Taiga kozhuuns. During his trips, Kheimer-ool Baidosovich stayed at sheep-herding camps and school dormitories, where he lecture about the ancient folk art of stone carving and demonstrated methods of working with chonar-dash.